The Hitcher II: I've Been Waiting
(2003)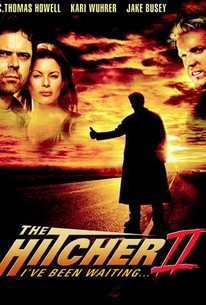 AUDIENCE SCORE
Critic Consensus: No consensus yet.
The Hitcher II: I've Been Waiting Photos
Movie Info
It's been over 15 years since Jim Halsey (C. Thomas Howell) was terrorized by psychotic hitchhiker John Ryder (the always-evil Rutger Hauer) in Eric Red's low-budget gem The Hitcher. After blowing away the psychopath, Jim turned to the law and eventually settled down with Maggie (Kari Wuhrer), a pilot from the local airfield. When his violent visions of the past end up jeopardizing his job, the couple travel back to the same Texas strip as before to face his demons. Little do they know what lies ahead -- yep, another crazy psychotic hitchhiker (Jake Busey)! Can Jim relive the same nightmare twice, or will Maggie have to step up to the plate to defeat the grinning menace? From Corman-bred director Louis Morneau (Bats) comes this long-awaited sequel to one of the biggest cult films of '80s cable and video history.
Critic Reviews for The Hitcher II: I've Been Waiting
All Critics (4) | Fresh (0) | Rotten (4) | DVD (3)
I'd like to learn why anyone would bother making a lame sequel to a film that didn't need one in the first place.
A typically dreadful direct-to-DVD sequel.
October 9, 2005 | Rating: 1/5
The Hitcher 2: I've Been Waiting is less a sequel and more a remake, except with less style and inferior production values.
Audience Reviews for The Hitcher II: I've Been Waiting
MisterYoda ?
Super Reviewer
It's the sequel to the original 1984 film and it's not great but sadly it's a little better than the remake to the original.
Had I seen C. Thomas Howell in any major motion pictures since the 1980's? No. Should I have had any expectations of seeing a good film at all? No. Was this a good film? Not even close. So why am I angry? I'll tell you. The first Hitcher film is one of my favourite thrillers of the 80's that had you on the edge of your seat the entire film and actually had the balls to dispatch main characters along it's course. This film is nothing but a cheap and pathetic rip off of the previous film, right down to supposed "twists and surprises" that are so lame you begin to wonder why they attempted a sequel in the first place. Well you are in the same both with the rest of us poor saps who actually spent money (thankfully only $.79 in my case) on this stinker. The plot is simple, our hero from the original film (Howell) returns aged but still haunted by what happened to him 17 years ago. Because of this, both his job and his marriage are on the rocks so he decides to take a road trip (despite past experiences) with wife (Wuhrer) in tow. Along the way they run along to a stranger (Busey) who is essentially a replacement of the far superior Rutger Hauer in an inferior attempt to replicate the first films excitement. If you are a fan of the first film, AVOID THIS AT ALL COSTS. This is only a sequel in name, and even C. Thomas Howell must have known that this was nothing but a paycheck in an attempt to cash in on the classic original. If you haven't seen the first film, I would still reccomend that you avoid this, but perhaps you can find more redeeming qualities in this junk than I could. 3/10 (and I'm being generous)
Cassandra Maples
Super Reviewer
The Hitcher II: I've Been Waiting Quotes
There are no approved quotes yet for this movie.