The Hitchhiker's Guide to the Galaxy
(2005)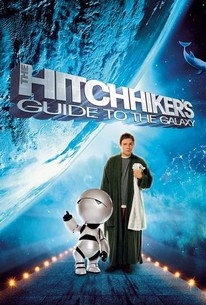 TOMATOMETER
AUDIENCE SCORE
Critic Consensus: A frantic and occasional funny adaptation of Douglas Adams' novel. However, it may have those unfamiliar with the source material scratching their heads.
The Hitchhiker's Guide to the Galaxy Photos
Movie Info
Earthman Arthur Dent is having a very bad day. His house is about to be bulldozed, he discovers that his best friend is an alien and to top things off, Planet Earth is about to be demolished to make way for a hyperspace bypass. Arthur's only chance for survival: hitch a ride on a passing spacecraft. For the novice space traveler, the greatest adventure in the universe begins when the world ends. Arthur sets out on a journey in which he finds that nothing is as it seems: he learns that a towel is just the most useful thing in the universe, finds the meaning of life, and discovers that everything he needs to know can be found in one book: The Hitchhiker's Guide to the Galaxy.
Critic Reviews for The Hitchhiker's Guide to the Galaxy
Audience Reviews for The Hitchhiker's Guide to the Galaxy
Ah Mr Douglas Adams and his legendary cosmic comedy, dare I say his unfilmable legendary cosmic comedy? Much like [i]Monty Python[/i] or [i]Fawlty Towers[/i] or many many other classic British comedies, [i]The Hitchhikers Guide to the Galaxy[/i] is the absolute epitome of our humour. The story of how hapless Arthur Dent is saved from the destruction of planet Earth by his alien friend and whisked across the universe on a bizarre adventure that even to this day I'm not entirely sure what's its all about. It involves meeting various aliens species, robots, venturing onto other worlds, learning about alien cultures, the meaning of life, and generally how to survive in the universe as long as you've got your towel. What started out as a simple radio broadcast back in 1978 on radio 4, quickly turned into a successful small series of five books from 1979 onwards. Douglas Adams simplistic radio broadcast which simple involved people talking against sound effects, took the comedy sci-fi world by storm. Since then there have been audiobooks, computer games, stage shows and of course the now legendary 1981 BBC television series. It was this small successful series that really brought the franchise home (so to speak) for many people including myself. This was the main format that originally grabbed the attention of many younger people (now middle aged) that may not have been aware of the book, mainly because of its visuals and sheer lunacy. Back in the day this show was quite a challenge, a real feat of craftsmanship and ingenuity. Sure these days it looks like complete crap in places but its that all important charm factor that still endures. So onto the 2005 movie adaptation, was this another feat of craftsmanship and ingenuity? Hmmm. Well firstly this movie isn't an exact adaptation from the original novels. I believe almost every different format of Adams work is slightly different because Adams liked to change things up (although I could be wrong here). Between the radio, TV and novel adaptations various bits of material were either left out or changed by Adams, and this is no different in the movie. We get the basics, the groundwork, but much has been left out (probably due to time restraints) and some has been tweaked, updated or is new. The first clue to the new material is the rather pointless song in the opening credits and some pointless backstory for Dent and Trillian ( I think). So onto the cast. Well how can I put this, Hitchhikers is an all British affair, the comedy is very British, its all from a very (dated) British point of view, much like [i]Fawlty Towers[/i] (or whatever). To this degree I personally think the casting in this movie was bad, a terrible case of miscasting to appeal to a worldwide audience (never a good move with something so niche). On the Brit side, Martin Freeman is a solid choice here but unfortunately merely comes across as his previous and well known 'Office' character of Tim Canterbury. It just kinda feels like you're watching a crossover. After the events of 'The Office' Canterbury goes into space. Bill Nighy does make an acceptable Slartibartfast but comes across as too weak and feeble really, I'm not sure why he played the character so ineffectually. On the American side we had Mos Def as Ford Prefect (oh Christ!). This is where I feel the people behind this flick really didn't understand the material, they just didn't get it. Besides the most obvious case of simply trying to encourage a wider multicultural audience (which was never going to work here), they chose someone who couldn't even act! Mos Def (an African American rapper) is so so [b]SO[/b] far from what the character of Ford should be its literally cringeworthy. You only have to read the book and watch the original TV series to get it, but essentially that means being British and of a certain age so...Clues come from his attire and name, but think of him as a Doctor Who-esque type fellow. Anyway Def was tragically bad in this role, not funny, couldn't act and oddly very quite too, can hardly hear the guy. Then you had Zooey Deschanel playing Trillian...ugh! Look there was nothing wrong with trying to mix things up a bit (I'm sure Adams might have approved considering he did the same), but they could of at least cast people who could act in comedies. The only person from the US that actually did fit their character was Sam Rockwell as Zaphod Beeblebrox, incredible I know. With this news (at the time) many fanboys/girls of the Adams universe were probably holding their head in their hands by this point I'm sure. But amazingly Rockwell's performance is spot on, in fact its possibly better than Mark Wing-Davey's original TV offering. Rockwell absolutely nails this ultra vain, narcissistic, overly flashy space cowboy type pretty boy with ease. The long flowing blonde hair, perfect gleaming white smile, dapper attire, trendy facial hair and that brash American attitude. It all fits together perfectly to create this young dumb full of cum, space bound Elvis-esque, legend in his own mind type. Rockwell not only nails the look, but he nails the quips, the poses, the failed action hero moves and his comedy timing. One major issue I had with this character update, his two heads. In the original TV series Beeblebrox has two heads on his shoulders, one being Wing-Davey's, one being a really bad motionless but hilarious puppet. In the movie, for some reason they decide to have Beeblebrox's second head beneath his main head, presumably sitting in his throat. Now I imagine this was probably down to making the character easier to play for Rockwell and easier in the long run because they wouldn't have to stick a CGI head on him in every shot. But I think it was a bad decision really because they took away the characters main hook, his two heads. Plus I really think it would have worked wonders with Rockwell's good performance, seeing these two narcissistic heads snap at each other. They could of done it, it might have been a pain and it might have looked a bit ropy but that's all part of the Hitchhikers charm (or it should be). But the way they took it was pretty shit if you ask me, made no sense either, how does his main head stay attached when the second head pops up? What causes the head to pop up? And how exactly did Humma Kavula (John Malkovich) remove Zaphod's second head without killing or decapitating him?? So onto effects. This where this movie does tend to shine because this universe [b]REALLY[/b] benefited from some modern day special effects. It was genuinely a real joy to actually see some of Adams creations come to life properly for the first time. Naturally being a 2005 movie the CGI is not up to scratch these days, its not terrible or anything but it does have that typical plastic look that a lot of early CGI displayed back in the day. But its not the CGI that grabs you, its the wonderful use of real puppetry, costumes, sets and props that help sell this bizarre cosmos. Twas the highly skilled craftsman and women of the Henson Creature Shop that supplied the Vogon alien race and by golly how beautiful they were. Fantastic full sized alien suits with actor inside, along with fully animated prosthetic faces bring the Vogon's to the big screen with A grade results. Along with the Vogon's we also see various other quirky real time alien suits with animated features (I liked the big white furry thing with teeth) and a small cameo from the original robot suit used for Marvin. Speaking of Marvin, this time the depressed robot is a rather tubby full sized suit complete with a huge planet sized head. Warwick Davis is the performer inside the suit whilst Alan Rickman provides the voice in a typically deadpan manner. Speaking of CGI, this also gave the material a real boost for the guide sequences. The famous animated segments from the guide (or the book) that explain all the unusual things within the universe for a beginner (humans). Basically how to survive when travelling around the universe. Originally the TV series effects were simple animated wire-frame-like coloured images with text and narration from the book (Peter Jones), they were actually the highlight of the series and looked great. For the movie CGI was incorporated and the coloured images were obviously way more advanced. Even though I do prefer the original wire-frame images because they actually look more realistic in a way, the new CGI animations were still nicely done and looked sharp. Stephen Fry provided the voice for the guide and he was the perfect choice to do so with his well spoken dulcet tones. My only quibble would be there simply wasn't enough of the guide in the movie. In the original TV series there were lots of small segments which provided tones of exposition, backstory, flashbacks etc...Obviously the movie couldn't incorporate as much so alas we don't get so much, you can tell because they cram a load in the end credits. So onto my final all important thoughts that you've all been waiting for with bated breath. The film is visually pleasing and does include some lovely touches of imagination that bring Adams creations up to date whilst also expanding on them. There are some good looking set pieces amongst some solid sets, nice costumes and even the odd new bits of added material work well, such as John Malkovich's creepy alien character of Humma Kavula. But here's the problem, the film just isn't particularly funny nor is it particularly special. Now I'm not saying that all films must be 'special', but with something like this, a rich cult with an large historic fanbase, frankly you just expect more. Instead we get a very average, run of the mill sci-fi flick that is clearly trying to be its own unique thing but simply can't escape the gravitational pull of the ever menacing Hollywood tractor beam (the casting didn't help this). They just couldn't really decide if they wanted to make a quaint British flick or a quaint British flick with heavy Hollywood influences. Looking back it just kinda felt like they saw the opportunity to wheel out another movie adaptation and try to spin it into another sequel spewing cash cow. Can I say that now? Well yes I can because the movie failed to succeed and has since been lost in the dark abyss of crap movie oblivion with so many others of the same ilk. Who the hell talks about this flick now?? no one! because it was yet another bland production rolled off the highly mediocre modern movie conveyor belt at a time when CGI was the be all and end all. So in the end it was a disappointment and a wasted opportunity, mainly because I doubt we'll be seeing any more movies based on Adams famous sci-fi universe, because of this.
Phil Hubbs
Super Reviewer
Feeling in the mood for some cheeky Brit humor, all understated and smart and whatnot, then one will not do badly here. We take a tour of the galaxy, meet some strange lifeforms (very Star Wars bar scene), and struggle with the meaning of life (Monty Python territory, eh?). It's a fun outing, if a bit kinky and weird, but that's the Brits for you.
Kevin M. Williams
Super Reviewer
Star Wars meet Monty Phyton.
Lucas Martins
Super Reviewer
The Hitchhiker's Guide to the Galaxy Quotes
| | |
| --- | --- |
| Narrator: | More popular than The Celestial Home Care of Nibus. Better selling than 53 More Things to Do in Zero Gravity. And more controversial than Oolon Collouphid's trilogy of philosophical blockbusters Where God Went Wrong, Some More of God's Greatest Mistakes, and Who Is This God Person, Anyway? |
| | |
| --- | --- |
| Arthur Dent: | It must be Thursday. I never could get the hang of Thursdays. |
| | |
| --- | --- |
| Ford Prefect: | Lollapalooza! |
| | |
| --- | --- |
| Arthur Dent: | I think that door just sighed. |
| Marvin the Paranoid Robot: | Ghastly, isn't it? All the doors on this spaceship have been programmed to have a cheery and sunny disposition. |