Hitler: The Rise of Evil
(2003)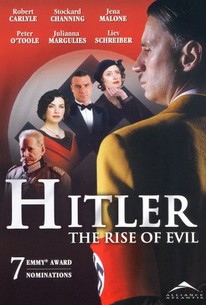 AUDIENCE SCORE
Critic Consensus: No consensus yet.
Hitler: The Rise of Evil Photos
Movie Info
British actor Robert Carlyle stars as the 20th century's most infamous dictator in this two-part TV biopic. The film covers the life of Adolf Hitler from his childhood to his emergence as absolute ruler of Germany in 1934. Most of the ground covered should be familiar to history buffs: Hitler's failed efforts to become a great artist, his frustration at watching his adopted country fall apart at the seams during World War I, his resolve to put Germany back on its feet by exploiting the nation's horrendous postwar economic woes and its ingrained anti-Semitism, his 1923 arrest, the publication of Hitler's virulent screed +Mein Kampf, the growing popularity of National Socialism, and the fatal error made by senile German chancellor Von Hindbenburg (Peter O'Toole) to "neutralize" Hitler by giving him a relatively unimportant political post in 1933. Also covered is Hitler's abortive romance with his half-niece Geli Raubal (Jena Malone) and his longer relationship with the estimable Eva Braun (Zoe Telford). Given the difficulties faced by actor Carlyle and the screenwriters to successfully convey pure, unadulterated evil, much of what we learn about Hitler is conveyed by the observations and reactions of other characters, notably crusading but ineffectual anti-Nazi journalist Fritz Gerlich (Matthew Modine), and especially German publisher Ernst Hanfstaengl (Liev Schreiber) and his wife, Helene (Julianna Margulies). Originally a staunch supporter of Hitler, Hanfstaengl eventually comes to realize the danger the man poses to the world ("He's not human. He simply studies others to become human."); in contrast, Helene, who at the outset is vaguely opposed to National Socialism, is ultimately seduced and swept up by the movement. Not surprisingly, this film stirred up a great deal of controversy even before it aired; some Jewish leaders and prominent Holocaust survivors worried that Hitler might come off as being sympathetic (a concern that may have dictated altering the film's title, which was to have been Hitler: The Early Years); and one of the film's producers was summarily dismissed after issuing a public statement which seemed to compare Germany's blind, unthinking allegiance to Hitler to America's rallying behind George W. Bush during the Iraq crisis. Hitler: The Rise of Evil originally aired May 18 and 20, 2003, on CBS.
Audience Reviews for Hitler: The Rise of Evil
½
Engaging biopic about the rise of power of Adolf Hitler, Hitler: The Rise of Evil features a brilliant tour de force performance by actor Robert Carlyle in the lead role. The film chronicles the early years of Hitler's life right up to his prominent rise in politics. Now, the film is pretty inaccurate, but in terms of being a biopic, this is sure to appeal to viewers interested in the subject. In terms of an entertaining biopic, this is a very good film. However if you're expecting an accurate portrait of the facts, you'll sadly be disappointed. But the cast here are great and each bring something unique to the screen that makes this film standout. Do go into this film expecting an accurate portrait of Hitler's life, you won't find it here. The filmmakers do get many aspects of his rise correctly, the fiction overshadows the truth. There are far better films detailing Hitler, and I would suggest to viewers wanting an accurate portrait of events , should watch the film that focuses on the last ten days of his life, Der Untergang (Downfall). Carlyle delivers a stunning performance here, and with that performance alone, you are captivated by his screen presence. Hitler: The Rise of Evil is flawed, but it does have its strengths as well. One is the storyline, which is engaging and entertaining, the other is the acting, from terrific actors. If you're interested in history, then this is the film watch. You may not get the facts, but it can spark interest in a riveting subject matter. Robert Carlyle is a great choice to play the lead role of Adolf Hitler, and along with Bruno Gantz who played the part in Der Untergang is one of the most impressive actors to play one of the most evil historical figures of the 20th century. Hitler: The Rise of Evil is imperfect, but as a whole, it's a good try at capturing Hitler's life on film. With that being said, the most definitive biopic on Hitler has yet to be made.
½
"The only thing necessary for the triumph of evil is for good men to do nothing."
My knowledge of Hitlers life and Germanys History is not yet to that level of what I want it to be, but basing from what Ive already read and know, its actually a pretty good film. Its NOT perfect, but its good enough to give you goosebumps.
I want to give this movie a perfect 5, but I feel that there were some scenes that I couldnt really agree upon. About the time of World War I when Hitler was a messenger, and the questionable "script" they placed to what little they actually touched on Hitlers childhood.
The movie subltly, and slowly gives out some sort of misinformation, you might call it an opinionated character bashing, which I think is so not necessary for this type of film and story. Hitler was a madman, but I think there is no need for the "evil exaggeration", but as far as the casting, acting and directing went, it was perfect, its just really the slight alterations on the story that made me slash off half a star in my rating.
This is a 2 part film, and its 3 hours long, but nonetheless interesting. When the movie was about to end, I thought that I was gonna be left hangging, but they did make up for it before the credits rolled in.
(I have a fascination for this slice of history, mainly because I want to understand and know the truth about what happened during that time. I feel robbed of this story/knowledge because exclusive all girls catholic schools dont put this on the curriculumn.)
Best viewed back to back with
Hitler - eine Karriere
, which is a very interesting and intriguing old documentary that actually shows the real people as themselves.
*Ill just redo this review some other time. Too tired to make a proper one../font>
½
Actually really well done.....
Barry Lappin
Super Reviewer
Hitler: The Rise of Evil Quotes
There are no approved quotes yet for this movie.