Hitman
(2007)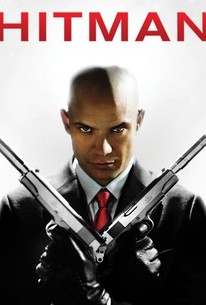 Movie Info
Based on the top-selling, award-winning videogame franchise, the "Hitman" is a genetically-engineered, elite assassin known only as Agent 47. His hallmarks are a lethal grace, unwavering precision, and resolute pride in his work. But even 47 couldn't anticipate a "random equation" in his life of exactitude: the unexpected stirrings of his conscience and the unfamiliar emotions aroused in him by a mysterious Russian woman. Agent 47 is a mysterious and complex man of profound contradictions: He was bred from the world's deadliest criminals, but raised by an exiled brotherhood of the Church. His very existence seems to be a sin, but he wages a quiet war to rid the world of evil. He's brilliant, charismatic and charming--yet reveals little about himself, has no name and is known only by the last two digits of a barcode tattooed on the back of his head.
Critic Reviews for Hitman
Audience Reviews for Hitman
This is an enjoyable action film with plenty of cool action sequences, shoot-outs and chases. It's based on the series of popular video games and stays quite true to parts of the games. The way the missions are relayed, location, suit, outfit changes and even some of the tactics used in the game are shown in the film. So this should keep the games fans happy. For everyone else this is just a cool stylized action film, which reminded me of the Transporter films quite a bit.
½
[img]http://images.rottentomatoes.com/images/user/icons/icon14.gif[/img]
Directors Cat
Super Reviewer
Hey, it's another girl with a dragon tattoo! What are the chances? Don't you think the bald heads with the barcodes shown off to the world are a bit obvious. All you need is one person to figure it out and this whole gang would be wiped out pronto.
Pretty ridiculous -- although I did like the bit about the kids actually playing the video game in the hotel room. Some nice action, some poor story. Walter, if you're in the mood for a little intense killing, I'd check this one out.
Lanning : )
Super Reviewer
Hitman Quotes
| | |
| --- | --- |
| Mike Whittier: | Nika Boronina: What color of underwear am I wearing? Agent 47: You're not wearing any underwear. |
| Nika Boronina: | What color of underwear am I wearing? |
| Agent 47: | You're not wearing any underwear. |
| | |
| --- | --- |
| Nika Boronina: | What color of underwear am I wearing? |
| Agent 47: | You're not wearing any underwear |
| Agent 47: | You're not wearing any underwear. |
| | |
| --- | --- |
| Agent 47: | The place i was raised didnt give us names,they only gave numbers and mine was 47. |
| Agent 47: | The place I was raised, they didn't give us names. They gave us numbers. Mine was 47. |