The Hobbit
(1978)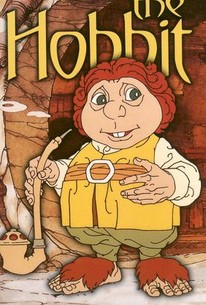 Movie Info
J.R.R. Tolkien's classic book about the Hobbit Bilbo Baggins and his unexpected adventures came to life in this animated, televised adaptation by Rankin-Bass Productions. Enthusiasts of Tolkien's lengthy and more demanding Lord of the Rings trilogy, as well as adult readers of The Hobbit, may be disappointed by this somewhat simplified adaptation of the book, though children and first-time readers of Tolkien will appreciate its whimsical introduction to the fictional world of Middle Earth. As the story goes, "In a hole in the ground, there lived a Hobbit...." Bilbo Baggins would much rather relax in his comfy hobbit-hole or take long walks in the Shire than have adventures. After all, "adventures make one late for dinner." Unfortunately, Gandalf the Wizard shows up one day with other plans for Bilbo. Gandalf introduces Bilbo to a rag-tag band of dwarves whose leader, Thorin Oakensheild, asks Bilbo for help in recovering his family's treasure from the fire-breathing dragon Smaug. Bilbo meekly accepts the offer, and soon finds himself on a long journey through Mirkwood forest, to Smaug's dark lair in the Lonely Mountain. Along the way, the unlikely band is captured and nearly eaten by trolls, shackled and prodded by goblins, tied-up in webs and hung from trees by giant spiders, and finally imprisoned by the swarthy, distrustful woodland elves of Mirkwood. With keen hobbit-wits and a magic ring he finds in the goblin caves, Bilbo manages to free the band on several occasions and helps them recover their lost inheritance. Understandably, much detail was omitted from Tolkien's novel to fit this made-for-TV adaptation -- most notably the story of the group's encounter with Beorn the shape shifter, and the somewhat complex issue of the Arkenstone, a legendary gem which Bilbo steals from Smaug's treasure-trove unbeknownst to the dwarves. Rankin-Bass Productions made another foray into Middle Earth several years later with The Return of the King, picking up where animator Ralph Bakshi left his unfinished adaptation of Tolkien's The Lord of the Rings.
Critic Reviews for The Hobbit
Audience Reviews for The Hobbit
A fun but not great version of the story.
Tim Salmons
Super Reviewer
It's a pretty decent 70's made-for-TV animation. With only 77 minutes it ha enough entertainment value, but obviously cuts out a LOT of stuff from the book. One scene is completely narrated over to save time. The dwarfs are just background as opposed to characters, they walk about but don't say much. The thing I loved most was the character designs. I really liked the goblins and Gollum's amphibian look was interesting. It's a good try and I was pleased with the parts they did, rather than being distracted by the bits they cut.
Luke Baldock
Super Reviewer
My first intorduction to the world of Tolkein as a child. Not bad way to start at all.
John Manard
Super Reviewer
The Hobbit Quotes
| | |
| --- | --- |
| Smaug: | I am Smaug! I kill what I wish! I am strong, strong, STRONG! My armour is like templed shields, my teeth are like swords, my claws spears! A shock of my tail, a thunderbolt! My wings, a hurricane! And my breath... DEATH! (breathes fire) |
| Smaug: | I am Smaug! I kill what I wish! I am strong, strong, STRONG! My armour is like templed shields, my teeth are like swords, my claws spears! A shock of my tail, a thunderbolt! My wings, a hurricane! And my breath... DEATH! [breathes fire] |