Hold That Ghost
(1941)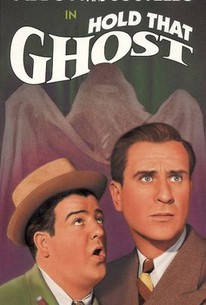 Movie Info
Hold That Ghost was the second of Abbott and Costello's starring films, but was held back from release in favor of their third picture, the more "topical" In the Navy. In Ghost, Bud and Lou play a couple of service-station owners who happen to be hanging around when gangster Moose Mattson (William B. Davidson) is killed. According to the terms of Mattson's will, whosoever is present when "the coppers dim my lights for the last time" will inherit his estate, which consists of a deserted mansion in the middle of nowhere. Crooked attorney Russell Hicks, who knows that Mattson has hidden hundreds of thousands of dollars somewhere in the lodge, dispatches sinister Charlie Smith (Marc Lawrence) to escort Abbott and Costello to the house, with instructions to "take care" of the trusting boys once they've arrived. Charlie charters a bus to take A&C out to the mansion; also on board, going off to various other destinations, are handsome Dr. Jackson (Richard Carlson), lovely Norma Lind (Evelyn Ankers) and professional radio screamer Camille Brewster (Joan Davis). It is inevitable that this disparate group is stranded along with Abbott and Costello in the forbidding mansion on a dark and stormy night. Charlie Smith is promptly murdered by parties unknown; throughout the rest of the film, Charlie's body pops up at the most inopportune moments, reducing the already tremulous Costello to a quivering mass of jello. The plot is merely an excuse to showcase Abbott and Costello's superbly timed cross-talking routines, a riotous impromptu dance performed by Costello and Joan Davis, and, of course, the legendary "moving candle" bit, which may well be Costello's funniest-ever screen scene. Hold That Ghost was originally designed and previewed as a 65-minute programmer title Oh, Charlie, but Universal decided to expand the length and throw in a few guest stars to secure top-of-the-bill bookings. This is why Hold That Ghost begins and ends with barely relevant musical numbers featuring Ted Lewis and the Andrews Sisters.
Critic Reviews for Hold That Ghost
Audience Reviews for Hold That Ghost
½
"Hold That Ghost" was Abbott and Costello's fourth feature film, and the third in which they were headline billed. Also going three for three with the comedy duo were The Andrews Sisters and Shemp Howard, who previously appeared with the boys in "Buck Privates" and "In the Navy". The film style differs somewhat from the military based films in that Abbott and Costello stay away from the skit routines and go more for the sight gags and one liners. In the story, Chuck Murray (Bud) and Ferdie Jones (Lou) inherit an abandoned inn from mobster Moose Matson; as stated in the will, they were with Moose at the time of his demise. Of course, Moose's cronies have an interest in the place because the money from his robberies are believed to be hidden there. Moose's assurance that the location of the money is "in his head" proves to be truer than we realize when first uttered. All of this serves as the basic premise for Bud and Lou to deliver their zany antics in what turns out to be a "haunted" house, replete with a dead body, levitating candles and observing ghosts. Adding to the fun of the film is Joan Davis, a wonderful foil for Lou's character who has just the right blend of good looks and snappy attitude. Richard Carlson is the nerdy Doctor Jackson who misses all the romantic signals thrown his way by pretty Norma Lind (Evelyn Ankers). The opening of "Hold That Ghost" left me considering whether today's concern with political correctness would have allowed the scene to be made today. Crooner Ted Lewis offers a rendition of "Me and My Shadow" with a black actor (uncredited Ralph Brooks) mimicking his movement, ostensibly as his "shadow". As always, The Andrews Sisters are delightfully entertaining, though not as animated as in the Service films. After 1941's "Hold That Ghost", Abbott and Costello didn't venture into another "horror" type film until 1948's "Abbott and Costello Meet Frankenstein", possibly their best comedy and my personal favorite by the boys. But then they really got into high gear with the genre with a host of offerings in which they paired with a number of Universal's characters - the Invisible Man, Jekyll and Hyde, and The Mummy. All are a treat and come recommended for Abbott and Costello fans.
David Ladd
Super Reviewer
This has been the first Abbot & Costello movie I ever saw, and although I enjoyed it, they are not match for legendary comedy team Laurel & Hardy. In my opinion, the major flaw of Abbot & Costello is that the whole comical talent lies with one half of the duo exclusively, which is Lou Costello, whose antiques, voice and physical comedy makes me giggle. Abbot whoever has not one single laugh in the movie and as of now, I cannot even remember his face. Compared with Laurel & Hardy, the duo misses the moments of perfect dualism, timing and complimentary character traits. The plot may have been a bit unoriginal, dwelling on Universal's legacy as a monster movie studio, but I stll enjoyed the goofyspook theme and am looking forward to watch the other Abbot & Costello monster mash-up movies. If you are interested in Slapstick or Laurel & Hardy, this movie is one you should not miss. I guess, it might also be highly entertaining for kids.
Henrik Schunk
Super Reviewer
Very funny Bud and Lou film. I haven't seen this one in a very long time, but I do remember loving this.
Christopher Brown
Super Reviewer
Hold That Ghost Quotes
There are no approved quotes yet for this movie.