Hold Your Man
(1933)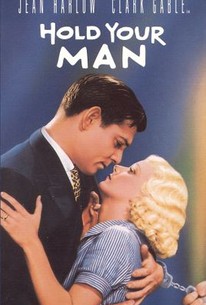 AUDIENCE SCORE
Critic Consensus: No consensus yet.
Movie Info
There's nothing wrong with Hold Your Man that a little editing wouldn't cure. Clark Gable plays a raffish young petty crook who hides out in hard-boiled Jean Harlow's apartment after he pulls off a robbery. Harlow enjoys Gable's company, and soon the two are living together. Gable puts his criminal career on hold for a while, but when Harlow, jealous of her boy friend's womanizing, fabricates a romance with "wealthy" laundry owner Paul Hurst, Gable decides to knock over Hurst's establishment. Hurst is accidentally killed, whereupon Gable runs off to parts unknown, leaving Harlow to take the rap. While in prison, Harlow discovers she's pregnant with Gable's baby. The conscience-stricken Gable tries to fix things by sneaking into prison and hastily marrying Harlow. By coming out of hiding, Gable allows himself to be arrested, but Harlow promises to wait for him. Hold Your Man starts out as an acerbic "sez you" comedy-drama, then bogs down into a big pile of sentimental goo (a common problem with MGM films of the early 1930). Still, the first few reels are infinitely entertaining, thanks to the chemistry between Clark Gable and Jean Harlow.
Critic Reviews for Hold Your Man
All Critics (2) | Top Critics (1) | Fresh (2) | Rotten (0)
The story itself is familiar formula - but the treatment, dialogue and direction, and a cast that is perfect right down to the smallest bit, render Hold Your Man a first rate piece of entertainment.
How could you not be suckered into enjoying such a devilishly hard-boiled comedy romp!
Audience Reviews for Hold Your Man
Jean Harlow and Clark Gable provide high-wattage star power in this film filled with classic images of both. Ah, the 1930's, when you could elude the law by waltzing into a young woman's unlocked apartment, find her taking a bath, and then have her come out and not only cover for you, but iron your clothes. The pair have great chemistry and repartee, and sparks fly. Dorothy Burgess is a firecracker as Gable's old girlfriend who drinks a little too much, and Stuart Erwin is solid as his sidekick in grifting. Overall, the film has that playful, pre-Code joy to it, naughty as it is. The screenplay by Anita Loos and Howard Emmett Rogers is delightful, and the direction from Sam Wood includes some wonderful shots. The final 45 minutes drag a bit, as Harlow is sentenced to a reformatory school, though it was nice to see the shenanigans of her fellow inmates, which included the lovely Theresa Harris, and Harlow singing at the piano to them. It's interesting to see the reaction to Harlow being pregnant, which leads to some over-the-top melodrama in the form of Gable pleading for a preacher to perform marriage services. You can see the ending coming a mile away, but an entertaining film throughout.
Antonius Block
Super Reviewer
cynical first half completely belied by the soppy mess the film soon sinks into due to louis b. mayer's enforced morality. still there's the amazing chemistry of gable and harlow, one of the all time great screen couples
Stella Dallas
Super Reviewer
½
Funny and Witty. Both Gable and Harlow are amazing. I love Harlows slighety cocky attitude in this film. Gable was excelent as always but he needs to get his mustache back!!
Morgan Salem
Super Reviewer
Hold Your Man Quotes
There are no approved quotes yet for this movie.