Holes
(2003)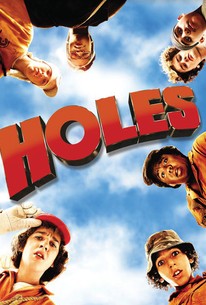 Movie Info
Stanley Yelnats is an unusual hero with dogged bad luck stemming from an ancient family curse. Perpetually in the wrong place at the wrong time, Stanley is unfairly sentenced to months of detention at Camp Green Lake for a crime he didn't commit. There, he and his campmates--Squid, Armpit, ZigZag, Magnet, X-Ray and Zero--are forced by the menacing warden and her right-hand men Mr. Sir and Mr. Pendanski to dig holes in order to build character. Nobody knows the real reason they're digging all these holes, but Stanley soon begins to question why the warden is so interested in anything "special" about the boys' find. Stanley and his campmates must stick together and keep one step ahead of the warden and her henchmen as they plot a daring escape from the camp to solve the mystery and break the Yelnats family curse.
Audience Reviews for Holes
½
I was quite hesitant to go for it, but having watched it, I have no regrets. It's a fun, watchable film. Nothing beyond that, though. Falling in (Holes) once shouldn't hurt; I can't surely say the same for more than once.
familiar stranger
Super Reviewer
I was apprehensive about watching Holes, but I am glad that I did. This film being the debut feature film of Shia LaBeouf in one of first big screen roles. I have to say that the film really impressed me, and I thought it was a very entertaining film that is perfect for the entire family. The cast do a great job in their parts and I really liked the plot of the movie overall. The film balances comedy, adventure and drama into one picture that is one of the best Disney films in the last ten years. This is a must see for viewers of all ages and it definitely is a well structured film that will keep you entertained for its two hour run time. The film has a terrific story that is supported by a varied cast of talented actors. LaBeouf is great here, and though he would be later so-so in the Transformers films, he displays some talent on-screen. This is a film that the whole family is sure to enjoy and it has something for everyone. Director Andrew Davis who also made the thrilling film The Fugitive directs this highly entertaining comedy adventure that is sure to delight film fans of all ages. Although there are some areas that could have improved upon, Holes is a terrific live action movie from Disney and it is a very entertaining film from start to finish. I was pleasantly surprised at the result of the film, and it is definitely one of the best most memorable family oriented comedies that I have seen. This is a truly unique film that if you come across it, you definitely shouldn't pass it up. Holes has it flaws, but is very good, solid and amusing. But above all, it has heart.
Definitely recommended to kids. I wanted more of the story with Sam and Kissin' Kate Barlow,so,since there is a book i'll search a piece of detail there...
Eliza Norton
Super Reviewer
Holes Quotes
| | |
| --- | --- |
| Magnet: | Maybe he found Zero. Maybe they're still alive. |
| X-Ray: | Yeah, and maybe the Easter Bunny and the Tooth Fairy are real. |
| Squid: | Maybe my mom'll stop drinkin' and my dad'll come back. |
| Twitch: | Man when Caveman stole that truck... oh... |
| Twitch: | Man when Caveman stole that truck. Oh. |
| ZigZag: | That was awesome. |