Hollow Man
(2000)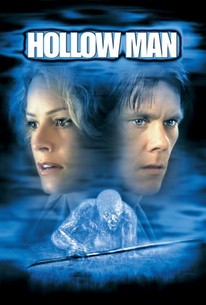 TOMATOMETER
AUDIENCE SCORE
Critic Consensus: Despite awesome special effects, Hollow Man falls short of other films directed by Paul Verhoeven. This flick over time degenerates into a typical horror film.
Movie Info
At a top-secret military lab, a group of brilliant young scientists have just unlocked the secret of invisibility. The team's arrogant leader, Sebastian Caine, ignores the risks and decides to test the dangerous procedure on himself- only to discover his fellow scientists are unable to reverse the effect. Working around the clock, Caine's colleagues struggle to devise an antidote. But Sebastian's intoxication with his new found power is growing, and he's come to believe his colleagues may be a threat to his very existence.
News & Interviews for Hollow Man
Critic Reviews for Hollow Man
Audience Reviews for Hollow Man
½
Superb visual effects highlight Paul Verhoeven's slick, modern, and really violent retelling of The Invisible Man. Kevin Bacon stars as Sebastian Caine- a gifted, driven, and hard working, but also very arrogant and entitled scientist who, along with his team, are developing some revolutionary new intelligence technology for a military organization. Their project is a serum that renders the user invisible. Testing on animals worked just fine, and, despite some hesitancy, Caine, pressured by the organization and his own impatience, goes ahead with a human trial...on himself. Things start out fine, but they didn't count on the side effects, namely that the serum is irreversible. Sebastian soon goes insane, and it's not long before his madness consumes him and he turns into a homicidal maniac. Kevin Bacon is a good choice for the lead, doing a great job of bringing Caine's arrogance and madness to life. The two most notable cast members backing him up are Elisabeth Shue as one of his team (and a former lover), and Josh Brolin as another team member and current lover of Shue's character. I also liked Kim Dickens as Sarah, ANOTHER team member, though she's rather underdeveloped. The film starts off great, with big ideas, thoughtfulness, and wonderful effects. Verhoeven is known for this sort of thing, so I wasn't surprised. Unlike some of his other violent but intelligent sci-fi efforts though, this one starts off strong then devolves into a typical slasher movie. That's not a completely bad thing, but it is disappointing. They also seem really eager to get right to the mayhem aspect of Caine's insanity instead of drawing out the suspense. All in all, this is a really flawed, but still decently entertaining effort.
Chris Weber
Super Reviewer
Interesting concept by director Paul Verhoeven, Hollow Man is an intense Sci Fi horror film with a good cast of actors. The special effects are well done, however considering that this is a film by Paul Verhoevem, it lacks in delivering what you'd expect from the man that brought classic films such as Robocop, Total Recall and Starship Troopers to the screen. This is still a well acted film that has it its moments. Kevin Bacon gives a stunning performance, and Hollow Man manages to thrill despite its flaws. I felt that this was a departure from Verhoeven's previous work, because after all he did direct Robocop. Hollow Man though is a good film for what it is as it blends Sci Fi elements with horror and thrills into one film. The story is quite interesting, and works quite well. However there are a few things that could have been done better. Despite the flaws the film is quite entertaining and is visually appealing as well as having an interesting plot. The acting performances delivered by the cast are wonderful and they each bring something effective to the screen. Kevin Bacon is great in his role of Sebastian Caine. Verohoeven's change of direction works well, and he proves that he can make something different while retaining his signature style. Hollow Man is an effective Sci Fi horror film that has an intricate story and good acting. This is a better film than what most people say and it delivers effective chills with a good enough story to keep you interested till the end. A good film worthy to watch.
Kevin Bacon starred with Kevin Costner in JFK (1991)...who was one of the star cast members in 3000 Miles to Graceland with Courtney Cox...who used to attend summer camp as a child with Chip Brown...who used to work with me at my last job. There I did it in 4!!! Lmao! Oh yeah... the movie was okay....
Gregory Dark
Super Reviewer
Hollow Man Quotes
| | |
| --- | --- |
| Linda McKay: | Sebastian, do you have any idea what time it is? |
| Sebastian Caine: | Da Vinci never slept. Said it was a waste of time. |
| | |
| --- | --- |
| Matt Kensington: | Sarah's on the warpath, so I suggest you play nice. |
| Sarah: | This is bullshit, Sebastian, bullshit. |
| Sebastian Caine: | Good morning to you, too! |
| | |
| --- | --- |
| Janice: | What was the clientele like? |
| Frank: | This guy comes up to me and he says: "l like my women like my coffee." |
| Janice: | People still use that line? |
| Frank: | Maybe he meant cold and bitter. |
| Janice: | Very funny. |