Hollywood Chinese
(2008)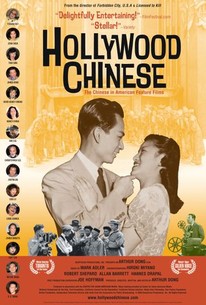 Movie Info
Filmmaker Arthur Dong's documentary Hollywood Chinese pays homage to the first century of the American film industry, as specifically colored and influenced by the Chinese immigrants to whom Hollywood owes an inestimable debt. Dong touches on everyone from actress Anna May Wong, of Limehouse Blues (1934) and Lady from Chungking (1943), to the late cameraman James Wong Howe, responsible for giving the Rock Hudson thriller Seconds (1966) such a creepy and inventive look. Dong also explores the newer generation of Chinese-American filmmakers, including such giants as Wayne Wang and Ang Lee, responsible for such contemporary classics as The Joy Luck Club, Crouching Tiger, Hidden Dragon, and Brokeback Mountain. At the same time, a haunting and telling undercurrent of racism and stereotypes weaves its way in, suggestive of the difficulties that Chinese men and women found working in Hollywood -- particularly in the early years. As a historical footnote, Dong also makes film history by rediscovering and editing in footage from what is alleged to be the first Asian-American film ever made: the 1916 Curse of Quon Gwan, directed by Marion Wong.
Critic Reviews for Hollywood Chinese
Audience Reviews for Hollywood Chinese
[font=Century Gothic]"Hollywood Chinese" is a fascinating and informative documentary about the portrayal and roles of Chinese Americans in Hollywood films, as told through a plethora of clips and talking heads that include Nancy Kwan, Amy Tan, B.D. Wong, David Henry Hwang, Ang Lee, Wayne Wang, James Shigeta, James Hong, and Joan Chen.(Joan Chen did not just disappear after "The Last Emperor." At the very least, she was also a regular on "Twin Peaks.") What the documentary in general is interested in is the power of images and how they influence the viewer. This is then applied to a specific community, one that is simultaneously viewed as both exotic and repeatedly anglicized by Hollywood.[/font] [font=Century Gothic]At the beginning of film, there were Chinese Americans who were pioneers in the field who tried to combat the stereotypes of the day.(I am always amazed whenever I come across any unfamiliar film history and there is plenty here.) With the advent of sound, the stereotypes softened somewhat but the roles of Chinese were played mostly by Caucasians, especially in "The Good Earth" and Charlie Chan films.(This is where Luise Rainer and Christopher Lee come into play.) But even there, there were young Chinese American actors who were finding work. Admittedly, some of it was for playing Japanese characters which is a practice that has been inexplicably continued to the recent day for "Memoirs of a Geisha."(No matter how far we have come, there is still work to be done.) Even after this, there were breakthroughs, even with the issue of stereotypes continuing.(The film makes no judgment about the work done by actors. Everybody's got to eat, right?) It is not until recently when Chinese Americans started directing movies that they were able to give a complete portrait of themselves to the wider world.[/font]
Hollywood Chinese Quotes
There are no approved quotes yet for this movie.