Hollywood Party
(1934)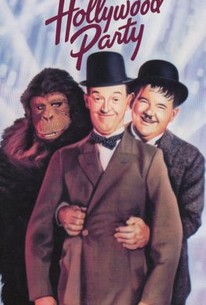 AUDIENCE SCORE
Critic Consensus: No consensus yet.
Movie Info
Hollywood Party was planned as a lavish, star-studded MGM musical titled Hollywood Revue of 1933. Under the less-than-sterling guidance of "kicked upstairs" MGM producer Harry Rapf, production dragged on interminably, using up the talents of five directors (none of whom were credited) and seven writers. The "all star" cast lineup slowly dwindled down to comparatively inexpensive contract players Jimmy Durante and Jack Pearl (radio's Baron Munchhausen) and a passel of non-MGM personalities. The final product wove a goofy story about The Great Schnarzan (Durante), a jungle-movie star whose films are suffering at the box office because his lions are anemic. Schnarzan schemes to purchase several healthy lions from Baron Munchhausen; to get the baron into a bargaining mood, Schnarzan throws a huge Hollywood party in Munchhausen's honor. Liondora (George Givot), Schnarzan's "hated rival", hopes to purchase the Baron's lions for himself, and crashes the party disguised as a Greek Baron. Also figuring into the plot are the members of the Klemp family (Charles Butterworth, Polly Moran and June Clyde), who are filthy rich and thus quite attractive to both Schnarzan and Liondora; poor-but-honest Eddie Quillan, who romances the Klemp's daughter; and Schnarzan's ex-girlfriend Lupe Velez, who shows up at the party in an astonishingly revealing gown for the express purpose of making trouble. In an amusing animated sequence courtesy of Walt Disney, Mickey Mouse introduces the Technicolor musical exploits of "The Hot Chocolate Soldiers." Shortly before the end, Stan Laurel and Oliver Hardy make a welcome appearance as a pair of lion-farm owners who wish to collect a debt from Baron Munchhausen. This segues into the classic egg-breaking sequence involving Stan, Ollie, and Lupe Velez. Now we've reached the 65 minute mark, with no logical ending in sight. Director Allan Dwan, brought into the project at the last minute, took a look at the existing footage and declared "It's a nightmare!" Inspired, Dwan directed a closing sequence which suggested that the whole plot had been dreamed by Jimmy Durante; Durante is wakened from his slumbers by his wife--played by Mrs. Jimmy Durante. Hollywood Party makes no sense at all, but it's a must for comedy lovers and 1930s film buffs. Don't miss that opening number, written by Rodgers and Hart and performed by Frances Williams and a chorus of barely dressed telephone operators; and keep an eye peeled for a lengthy uncredited appearance by the Three Stooges.
Critic Reviews for Hollywood Party
Audience Reviews for Hollywood Party
There are no featured audience reviews yet. Click the link below to see what others say about Hollywood Party!
Hollywood Party Quotes
There are no approved quotes yet for this movie.