Hollywoodland
(2006)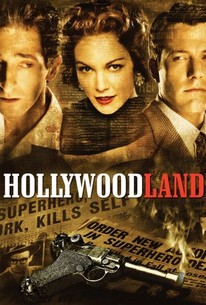 TOMATOMETER
AUDIENCE SCORE
Critic Consensus: More than a movie star murder mystery, Hollywoodland takes it slow in order to reveal the intriguing details of the rise and fall of superstar fame.
Movie Info
The mysterious and unexpected death of an iconic Hollywood star may be just the tip of an iceberg of scandal in this showbiz drama based on a true story. George Reeves (played by Ben Affleck) was a journeyman actor who had played a small role in Gone With the Wind and appeared onscreen with the likes of James Cagney, Rita Hayworth, and Marlene Dietrich, but his career was not exactly booming when he was cast as comic-book hero Superman in a 1951 B-movie, Superman and the Mole Men. A year later, the producers of the movie launched a syndicated Superman television series with Reeves returning as "The Man of Steel." The show became a major hit, and Reeves was a star at last. However, on June 16, 1959, to the shock of many, Reeves was found dead of a gunshot wound. Police soon declared Reeves' death a suicide and closed the case, but his mother (Lois Smith) refused to believe her son took his own life, and hired Louis Simo (Adrien Brody), a private detective, to find out the truth about her son's passing. Simo found that many Hollywood insiders did not care to cooperate as he researched the Reeves case, but his digging uncovered plenty of evidence suggesting the actor did not take his own life, and he also revealed one of Reeves' deepest secrets -- while he was engaged to marry a pretty young starlet, Leonore Lemmon (Robin Tunney), Reeves was also carrying on an affair with the beautiful Toni Mannix (Diane Lane), the wife of Eddie Mannix (Bob Hoskins), a powerful and ill-tempered executive at MGM. While the producers of Hollywoodland based their story on factual accounts of the investigation into the death of George Reeves, they were denied permission to use the Superman logo and the familiar introduction to the Adventures of Superman television show by the respective copyright holders.
News & Interviews for Hollywoodland
Critic Reviews for Hollywoodland
Audience Reviews for Hollywoodland
½
This is a slick period piece with some great production values that concerns the final days and mysterious circumstances surrounding the death of actor George Reeves, the original Superman before Christopher took over the role for the films. It looks at Reeves, but mostly follows the efforts of a private eye determined to figure out the truth behind what really happened and why. The concept and set up are great, but the results are unfulfilling. This one is really trying to swing for the fences and place itself amonsgt the ranks of Chinatown (possibly) or L.A. Confidential. It's a noble try, but it doesn't quite make it. The performances are actually pretty decent, especially from Affleck and Brody, but the story is meandering, plodding, and not as gripping as it needed to be. It's a bit of a bore, and doesn't really provide the insight I was hoping it might. I dug the technical side of things, and there are some good sequences, but ultimately this is just an unfocused bore.
Chris Weber
Super Reviewer
½
A detective investigating the suicide death of a famous TV actor is the entry point for this informed discussion about some of the effects of our society's fixation on celebrity. Brody's great as a smart detective who's not famous for anything, totally unaware how desperately wants to be, while Affleck's spot-on as George Reeves, who was famous, only not the way he wanted to be and consequently unappreciative of what fame he had. I learned many things about one of my childhood heroes I hadn't known before ... and a little about myself too.
Kevin M. Williams
Super Reviewer
½
Hollywoodland is a fictionalisation of the circumstances surrounding the death of George Reeves whose first acting role was in the legendary Gone With The Wind but found fame as the TV incarnation of Superman. Aping the Noiresque feel of 40s and 50s detective movies, Adrien Brody is excellent as the down at heel, ambulance chasing private eye who is more interested in self aggrandizement than justice, as is Ben Affleck who puts in a fine performance as the charming rogue who feels he is better than the lot in life he has been handed. Sensitively directed with a nice sense of period, this is not a lurid true crime story, more a character study with an intelligently plotted investigative spin and it works really well. Those expecting a slam-bang finale may be disappointed but it has a poignancy that rounded off the story perfectly for me. Not in the same league as L.A. Confidential but head and shoulders above the likes of The Black Dahlia.
Hollywoodland Quotes
There are no approved quotes yet for this movie.