Holmes and Watson
(2018)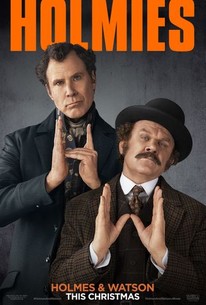 TOMATOMETER
AUDIENCE SCORE
Critic Consensus: The lowest and vilest alleys in London do not present a more dreadful record of the adventures of Sherlock Holmes and Dr. Watson than does Holmes and Watson.
Movie Info
Legendary detective Sherlock Holmes and his partner Doctor Watson return for a comedic take on their classic literary partnership, as they use their incredible deductive minds to solve a mystery.
News & Interviews for Holmes and Watson
Critic Reviews for Holmes and Watson
Audience Reviews for Holmes and Watson
For a moment I was trying to decide if Holmes and Watson is the worst movie I have ever seen. It was a brief moment. I have seen so many terrible B-movies and action flicks that amounted to fuck all, that this low-brow and forgettable piece of trash is quickly disqualified for that ignominious award. It's not even the worst thing Will Ferrell or John C. Reilly have put out. But it REALLY sticks in the craw for me in such a hateful manner. This movie fucked with the wrong loser. Oh good God. There is no real plot here. Not that it mattered. No, this is a series of things that happen. Those things being two aging comedians screaming at each other like autistic children until someone yelled cut. The rough idea (I guess) was that someone REALLY wanted to satirize the Guy Ritchie directed Sherlock Holmes films with Robert Downey Jr. and Jude Law. Aside from the fact this movie is almost a decade too late on that front, it ignores the fact that those movies already WERE action comedies that had no problem making fun of their own premise and ridiculous steampunk tone. You were in on the joke AND you still had an interesting story and great chemistry between the main leads. And if you wanted a more serious and cerebral modern take on the classic character, you had the BBC series to fill your time. The other idea that led to this disaster was the history between Will Ferrell and John C. Reilly, which included cult favorites such as Talladega Nights and Step Brothers. And yeah that dynamic is there, buried beneath all the shit. There are a couple of jokes that work and Ferrell's English accent is not as terrible as one would assume. But the rest is PAINFULLY unfunny. Aside from yelling all of their lines, overuse of the gag about Sherlock Holmes being able to calculate (or rather failing to calculate) the mathematics of a fight, jokes about how Watson REALLY wants to bang old Queen Victoria, there are numerous moments in which we are supposed to laugh at cocaine and heroin use. HEY GUYS! DID YOU KNOW THEY DID HARD DRUGS IN THE NINETEENTH CENTURY AND DIDN'T KNOW HOW DANGEROUS THEY WERE?! WIKIPEDIA SAID IT WAS IN THE BOOKS! PEOPLE IN OLDEN TIMES WERE SOOOOOO STUPID, UNLIKE NOW!!! I think there is one teachable moment in this dumpster fire. In one scene, Holmes and Watson visit the morgue. Watson asks the World's Greatest Detective if he will be queasy again at the sight of dead bodies. It was at this moment the horror of this joke dawned on me. They are going to make Sherlock Holmes into a stock Will Farrell character for the sake of an overlong vomit joke. Sure enough, he vomits uncontrollably for the next five minutes and can't even get past the lobby. He then flirts with a mute woman and Watson hits on a doctor while they perform an erotic autopsy. What I'm getting at here, is that good satire operates within the rules and world of the IP or topic they are deconstructing. Sherlock Holmes has pulled apart corpses and put them back together for fun. He has spent many a night in rooms FILLED WITH THEM. You are telling me that no comedic writer can get mileage out of THAT weird shit? By acknowledging the source material (and actually understanding it) you can properly take it apart for laughs. For good examples of this, see Mel Brooks' filmography, The LEGO Batman movie, and the first Austin Powers entry. Needless to say, this was where this movie pretty much died for me, long before we have Queen Victoria performing an opening ceremony on the Titanic so we can get a Billy Zane joke. (Yep. That happened.) Fuck this movie. And fuck the people that made it. Netflix didn't want this piece of shit. Think about that. They had no choice but to release it into theaters knowing it would bomb on all fronts. Perhaps the use of the Titanic was appropriate after all.
Joshua Sheetz
Super Reviewer
½
If this were made in 2007, in between Talladega Nights and Step Brothers, that Hugh Laurie cameo would have either been Vince Vaughn or Ben Stiller and it would have been all the better for it. Still, even if Holmes & Watson were to come out some eleven years ago it wouldn't have been directed by Adam McKay (the director of those aforementioned Ferrell and Reilly collaborations) and that is the chief issue with this rushed, lifeless, excursion into a premise that never takes off; a skit that should have been cut not because of a lack of time, but because the premise wasn't near substantial enough to support the time it's given. As someone who turned 16 in 2003 and already adored Ferrell due to his SNL performances it was like seeing the rest of the world discover what I already knew that year when he delivered the one-two punch of Old School and Elf (I realize the former wasn't immediately seen as a success, but it's long since become a cult favorite). In the years that followed, Ferrell would go on to become a comedy titan thanks in large part to his collaborations with McKay-each of which are exceptional in their own right-but if Holmes & Watson signifies anything it is the end of an era; the final nail in the coffin that began being built a few years back with the likes of Get Hard and Daddy's Home, and continued through to last year with The House and a Daddy's Home sequel. In 2009, something like Land of the Lost was the exception, not the rule, but Ferrell has turned such expectations on their head and now we expect nothing less than cheap comedy from a guy who was once the king of being smart and cutting by being dumb and funny. Ferrell isn't the only one who has fallen prey to this plague of unfunny-friends in his "Frat Pack" have also had an equally tough time adapting their comedy and careers to their age as Stiller made Zoolander 2, Vaughn and Owen Wilson re-teamed for The Internship, and who knows where Luke Wilson has been for the last decade, but Ferrell's fall-for one reason or another-hurts a little more. Holmes & Watson is not a good movie and considering how good we know Ferrell and John C. Reilly can be together Holmes & Watson is even more disappointing, but it's not the out and out atrocity that's causing hoardes of walk-outs either. It has less than a handful of inspired comedic moments in a script where the same joke is repeated scene after scene to the same degree of effectiveness: little to none. A musical number that should have gone bigger and a zinger of a cameo, both near the end of the film, are easily the best things writer/director Etan Cohen's film has to offer. So, is Holmes & Watson a good movie? No. Was I ever bored to the point I didn't continue to hold out hope things might get better? No, not until the end came and I realized hope for Ferrell might forever be lost. At least until he gets a little older and redeems himself critically with more serious-minded work only to then make a glorious return to comedy and is subsequently discovered by a new generation of fans where the likes of Holmes & Watson will have long been forgotten and is never brought up again.
Philip Price
Super Reviewer
Atrocious on all accounts. Even Will Ferrell deserves better. Rating: 11
Holmes and Watson Quotes
There are no approved quotes yet for this movie.