Holy Ghost People
(2014)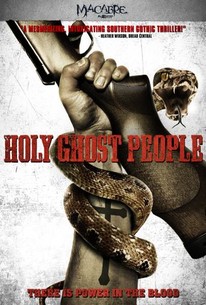 Movie Info
HOLY GHOST PEOPLE is a Southern Gothic thriller about a teenager searching for her lost sister in the Appalachian Mountains, where she encounters a snake-handling religious cult and eventually learns the truth about her sister's fate. (C) XLrator Media
Critic Reviews for Holy Ghost People
Audience Reviews for Holy Ghost People
I was really excited getting this psychological thriller directed by Mitchell Altieri and written by Kevin Artigue, Joe Egender, Altieri, and Phil Flores. I loved the subject and I was expecting this deep and mysterious movie which will give an opportunity to Emma Greenwell, Brendan McCarthy, Cameron Richardson, Roger Aaron Brown, Donald Patrick Harvey and Joe Egender to shine as stars! The story of Charlotte, a woman who goes in search of her missing sister, who has joined an isolated religious group had so many opportunities for a story development, and one by one, most of them were lost during the 88 minutes of the film. Acting was good, directing was up and down, but the weakest link was the screenplay which never fully delivered anything of any significance. Holy Ghost People was meant to be a balanced portrayal of Pentecostal Christians, and the film was written to explore both the positive and negative aspects of faith using the documentary Holy Ghost People as partial inspiration. Power and religion needs extra effort to be presented successfully, but here the exploration of these subjects was very eerie. If you don't mind extensive narration with underdeveloped screenplay plus excellent acting , check it out.
Holy Ghost People Quotes
There are no approved quotes yet for this movie.