Holy Man
(1998)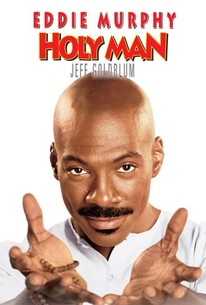 TOMATOMETER
AUDIENCE SCORE
Critic Consensus: Cloying and unfunny, Holy Man wastes the repartee between Eddie Murphy and Jeff Goldblum on the gospel of toothless satire and unearned sentimentality.
Movie Info
In this sharp-edged, high-octane comedic look at life, love, and television home shopping, Murphy is an inspirational televangelist who hilariously proves his message -- that, in today's world, shopping by television can be a religious experience. Only Eddie could so completely become this over-the-top marketing genius who takes a home shopping broadcasting company -- and the country -- by storm.
Critic Reviews for Holy Man
Audience Reviews for Holy Man
Holy Man is one of the worst films that Eddie Murphy has done. This is the type of film that is void of effective humor and has a bad script to rely on. This is one of many bad films that Eddie Murphy has starred in, and it is a painful laugh free comedy that really doesn't have anything interesting going for it. The film is poorly directed, and has stale jokes that just aren't funny. The film never succeeds at being funny, and the only thing that it succeeds is being a bad film. Holy Man just doesn't have that special ingredient which made Eddie Murphy such a funny guy in previous films. Luckily he would redeem himself with Bowfinger, but that would be short lived because he would continue making bad, laugh free and uninspired garbage. Holy Man just relies on a poorly written script and the story could have used a lot more development. Stephen Herek fails to direct something consistent here and he ultimately doesn't have what it takes to create a good comedy. Holy Man simply doesn't deliver anything good; it's an underdeveloped film, one that was destined to fail right from the start. If you're expecting a good film with this one, you'll be sadly disappointed. This is one of many bad films starring Eddie Murphy, and he really doesn't make you laugh in this one. Simply a bad film that could have been much better than what it turned out to be. I thought that this film was quite awful and is one of those films that aren't memorable whatsoever. Avoid this one; it definitely isn't worth your time.
One of Eddie Murphy's better ones. (I know that is not saying a whole lot). It's not overly funny, but it does have quite a nice message to it. Sweet.
Nicki Marie
Super Reviewer
Holy Shit! God forgiven this filmmakes, they don't know that they are doing!
Lucas Martins
Super Reviewer
Holy Man Quotes
There are no approved quotes yet for this movie.