Holy Matrimony
(1994)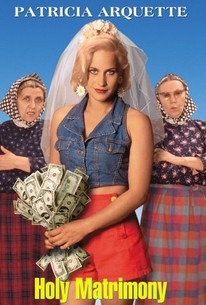 Movie Info
The plot line of this Disney family comedy makes it sound a whole lot more sleazy than it really is. Sexy blond Havana and her boyfriend Peter are on the lam after robbing a carnival. They run to a Hutterite colony in Canada. This is where Peter grew up and he is given a warm welcome. Havana because of her trashy looks and worldly ways is treated with suspicion until Peter convinces them that she is his fiance and wants to convert. They marry and Havana does her best to adhere to their customs. She gives up make-up, cigarettes, TV, and tries to be submissive to her man. Part of her devotion has to do with the fact that Peter hid the money and she doesn't know where it is. But after Peter is killed in a car accident she decides to stay and try to fit in. Quoting the Bible, she invokes the Hutterite custom of marrying the brother of the deceased. The trouble is, Zeke is only 12-years old and is not thrilled at the prospect of marrying anyone. The marriage is, of course, chaste. In time, Havana finds herself becoming as a big sister to the boy. She eventually leaves when a shady FBI agent picks up her trail.
Critic Reviews for Holy Matrimony
All Critics (5) | Fresh (0) | Rotten (5)
Holy Matrimony would be a better film had Nimoy and his writers not allowed a Hollywood-style crisis to intrude on Havana and Zeke's relationship.
...a hopelessly misguided comedy that just never manages to find its footing...
A total embarrassment; not Nimoy's best work behind the camera.
October 19, 2004 | Rating: 0/5
Audience Reviews for Holy Matrimony
Well-intentioned comedy has a moral and some good performances, but a formulaic chase story keeps it mired in mediocrity. This leads to all sorts of rarely hilarious complications.
Dean McKenna
Super Reviewer
Holy Matrimony Quotes
There are no approved quotes yet for this movie.