Holy Smoke
(2000)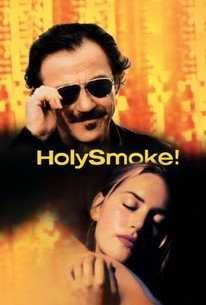 Movie Info
It's said that sex and religion are two subjects that no one can discuss without arguing; writer/director Jane Campion tackles both head-on in this satiric comedy drama. On a trip to India, Australian Ruth (Kate Winslet) has a spiritual awakening and embraces the teachings of a guru named Baba. Back home in Sydney, Ruth's mother and father (Julie Hamilton and Tim Robertson) are appalled to learn that their daughter now answers to the name Nazni and has no intention of returning. Mother visits her daughter in India in hopes of convincing her to come home, but it's not until she suffers a life-threatening asthma attack that Ruth agrees to return for a visit. Mother pretends to arrange a meeting with Ruth's father, who has been ill, and this trick lands Ruth in the clutches of P.J. Waters (Harvey Keitel), an American exit counselor who deprograms members of religious cults. Waters begins to loosen Ruth's belief in Baba's teachings, but P.J. finds himself sexually attracted to Ruth, and in time she allows him to seduce her. Ruth soon turns the tables on P.J., as she discovers that sex allows her to make mincemeat of his long-held beliefs as a macho, misogynist male. Jane's sister Anna Campion, herself a director, co-authored the screenplay; Pam Grier appears in a supporting role as P.J.'s partner and girlfriend.
Critic Reviews for Holy Smoke
Audience Reviews for Holy Smoke
½
Holy Smoke is right! Kate Winslet definitely sets the screen on fire, literally and figuratively, in this one as Ruth Barron, a young, idealistic woman, whose parents (Julie Hamilton, Tim Robertson) become concerned when she joins a commune of like-minded seekers in India, under the sway of a charismatic guru. Tricked into returning to her native Australia, she is ambushed by her family and whisked away to a secluded hut for deprogramming by a highly successful American deprogrammer, PJ Waters (Harvey Keitel). What takes place in this desolate location is outside the bounds of any reputable therapy. This is a game (or is it) of cat and mouse and the power shifts back and forth quite precipitously and nearly devastatingly. Excellent performance by the leads, and convincing character development by the supporting cast propel this compelling tale. Surprisingly light moments of wry humor keep this from becoming too unrelentingly dark but without causing it to descend into parody. The control of the plot by Jane Campion feels sure-handed and exhibits a director firmly confident in her craft. The scenery is beautifully desolate and the cinematography is striking. Only a slight letdown at the end detracts from the overall impact.
Mark Abell
Super Reviewer
Although this movie lacks in coherent ideas, it managed to keep me interested the whole way through. It touches on concept after concept, but never settles on a particular intention, or, for that matter, a particular genre. Being a fan of both Kate Winslet and Harvey Keitel, I was interested in seeing this to watch them act together. Their work here is not disappointing. Both actors deliver fearless, intently psychological performances that prevent this film from being a total disaster. The sexual relationship between their characters is unpleasantly explored and often quite perverse, but they are talented enough to make it work better than it probably should.
½
Unsustained comedy drama with Kate Winslet and Harvey Keitel in the Australian outback.
Dean McKenna
Super Reviewer
Holy Smoke Quotes
| | |
| --- | --- |
| Ruth: | (singing while drivng her car) 'Cause the love that you gave that we made/Wasn't able to make it enough for you to be open wide, no/And everytime you speak her name/Does she know how you told me you'd me/Until you died 'til you died/But you're still alive. |
| Ruth: | [singing while drivng her car] 'Cause the love that you gave that we made/Wasn't able to make it enough for you to be open wide, no/And everytime you speak her name/Does she know how you told me you'd me/Until you died 'til you died/But you're still alive. |