Home Alone
(1990)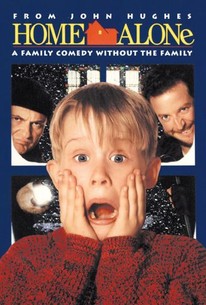 TOMATOMETER
AUDIENCE SCORE
Critic Consensus: Home Alone uneven but frequently funny premise stretched unreasonably thin is buoyed by Macaulay Culkin's cute performance and strong supporting stars.
Movie Info
Home Alone is the highly successful and beloved family comedy about a young boy named Kevin (Macaulay Culkin) who is accidentally left behind when his family takes off for a vacation in France over the holiday season. Once he realizes they've left him home alone, he learns to fend for himself and, eventually has to protect his house against two bumbling burglars (Joe Pesci, Daniel Stern) who are planning to rob every house in Kevin's suburban Chicago neighborhood. Though the film's slapstick ending may be somewhat violent, Culkin's charming presence helped the film become one of the most successful ever at the time of its release.~ Stephen Thomas Erlewine, All Movie Guide
Critic Reviews for Home Alone
Audience Reviews for Home Alone
An entertaining (but overrated) Christmas family movie that may be thin and silly (especially in its third act) but is also refreshingly funny and tender, with a great Oscar-nominated score by John Williams and hilarious performances by Culkin, Pesci and O'Hara.
Carlos Magalhães
Super Reviewer
A very good slapstick family film backed up with good performances from the adult cast. Kulkin....not so much. I particularly enjoy the burglars enthusiasm in the film. By no means however one of the most brilliant christmas films out there. Over rated but christmas fun.
Directors Cat
Super Reviewer
If you want some good old fashion family violence...look no further. This is brutal man. Those guys took the beating of a lifetime....And it's funny as hell. Great storytelling....very funny buildup to how they find out he's home alone...and how he finds out they are coming to break in. This was a good year for Pesci. Nothing bas about GoodFellas. But this is what he should have got the Oscar for... (don't poop your pants....it's a joke)...He was really good though...
Martin Sahlin
Super Reviewer
Home Alone Quotes
| | |
| --- | --- |
| Megan McCallister: | You're not at all worried that something might happen to Kevin? |
| Buzz McCallister: | No, for three reason: A, I'm not that lucky. Two, we use smoke detectors and D, we live on the most boring street in the whole United States of America, where nothing even remotely dangerous will happen. Period. |
| | |
| --- | --- |
| Harry: | Marv? |
| Marv: | Harry? |
| Harry: | Why the hell did you take your shoes off? |
| Marv: | Why the hell are you dressed like a chicken? |
| | |
| --- | --- |
| Kate McCallister: | (on a pay phone at the Paris airport) Hi! I'm calling from Paris. My son's home alone. |
| Kate McCallister: | Hi! I'm calling from Paris. My son's home alone. |
| | |
| --- | --- |
| Harry: | (looking at the McCallisters' house with some of supposed partygoers. Music is blasting) Do we wanna come back tomorrow? |
| Harry: | Do we wanna come back tomorrow? |