Home Sick
(2007)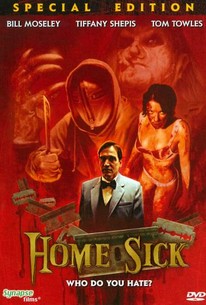 AUDIENCE SCORE
Critic Consensus: No consensus yet.
Movie Info
A smiling psychopath with a briefcase full of razorblades turns a homecoming get-together into a terrifying bloodbath when he forces the partiers to identify the people they hate, and a black-hooded supernatural killer begins viciously slaying each person identified. Mr. Suitcase (Bill Moseley) may maintain a happy visage, but don't be fooled by appearances because he's actually a horrifying harbinger of death. After crashing a homecoming bash for Claire (Lindley Evans) commands everyone in the room to name the one person they hate, and then makes a slash in his skin for each person who answers. Soon thereafter, everyone named that fateful night begins dying in the most gruesome ways imaginable. It seems that a supernatural killer is stalking them one by one, but upon realizing that partygoer Tim (Matt Lero) had joked that he hated everyone in attendance, the terrified friends all begin to wonder if they could be the next to go. Desperate to defeat the malevolent force that stalks them from beyond, the teens seek the weapons they need to stay alive from a chili-loving militiaman with enough heavy artillery to blow up a small town.
Critic Reviews for Home Sick
There are no critic reviews yet for Home Sick. Keep checking Rotten Tomatoes for updates!
Audience Reviews for Home Sick
½
Good gore but good God, what the hell did I just watch? Was this supposed to be a black comedy? Or maybe a David Lynchian gorefest? Or I am just over thinking this and it's actually just an amateur mishmash that has some really, really bad acting and a plot so incoherent that I'm not sure there even was one to begin with. One of the most bizarre and baffling movies I've ever seen. And I don't mean that in a good way. And another thing: Does anyone understand what the title had to do with anything in this movie? Or is that me overthinking things again? Yeah, probably. Next time Juny I think I'll just take your word for it.
A.D. Villarreal
Super Reviewer
½
A group of friends are in the middle of haveing a very lame party when a man played by Bill Mosley shows up uninvited with a suitcase in his hand once he opens it there is tons of razorblades inside he askes each person to name someone they hate as they do so he cuts into his skin. after people that were named start turning up dead seems the man with the case unleashed some weird monster to do the killing. Really incoherent horror movie that makes you never fully know whats going on and got the 2 and half stars just for the gore scenes other then that this can be left alone.
½
A very gory & gruesome film.The film has plenty of gory scenes but it doesn't necessarily means that the film is any good.I didn't get it!,Totally clueless of what was going on.The characters,plot & some scenarios were so mediocre,bizarre & annoying.I really couldn't wait for this film to be over.A low budget slasher flick that goes over the top & doesn't make any sense.
Home Sick Quotes
There are no approved quotes yet for this movie.