Home Sweet Hell
(2015)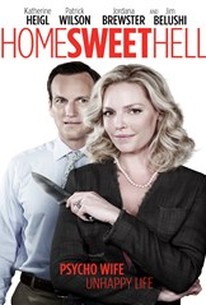 TOMATOMETER
AUDIENCE SCORE
Critic Consensus: Home Sweet Hell mistakes misogyny for subversive wit, aiming for black comedy but ending up with a grueling test of viewer endurance that wastes game efforts from its likable leads.
Movie Info
Mona and Don's seemingly perfect suburban bliss is disrupted by a sexy extortionist and Mona will stop at nothing, including killing the competition, to keep her little slice of heaven. (C) Vertical Entertainment
News & Interviews for Home Sweet Hell
Critic Reviews for Home Sweet Hell
Audience Reviews for Home Sweet Hell
The indie dark comedy Home Sweet Hell is a rather lackluster film that doesn't deliver that many laughs. When furniture salesman Don Champagne has an affair with one of his workers (who's actually a professional con-artist) she turns around and begins to blackmail him; and when he comes clean with his wife she demands that he kill her to make things right. Starring Patrick Wilson, Katherine Heigl, and Jordana Brewster, the casting is rather good; the performances however, are pretty weak. And the tone doesn't do a good job at mixing the comedy with the violence. Additionally, the characters aren't that sympathetic. Poorly made shlock, Home Sweet Hell isn't very entertaining.
Dann Michalski
Super Reviewer
½
Absolute mess of a movie. And this from someone who actually quite likes Katherine Heigl. Thank goodness I didn't buy this one before watching, as I was tempted to. A too perfect wife discovers her husband has had a fling with an employee, who has now announced she is pregnant and is demanding money from him. Rather than leave him, she decides to fix the problem herself. Katherine looks awful in this - actually hard to look at, and her character is a psycho bitch too, but not in a good way. (I am not saying she is unattractive, but the hair, makeup and wardrobe is very harsh on her and not flattering). Though the story itself had potential, and normally I enjoy this type of psycho/black comedy film, it is not well done and so leaps from one ridiculous situation to the next, none of it remotely interesting. The acting is pretty poor all around. Just does not work at all on any level.
Nicki Marie
Super Reviewer
½
I've never been a Katherine Heigl fan, absolutely never. Not only does she choose shit movies to do, but the best movie, that I've ever seen her in, Knocked Up, resulted in her complaining about the film's writing. Claiming that on top of being sexist, which I simply do not see, but I am not a woman so even if it was so I cannot tell her what is or isn't sexist, it was also a poorly written movie. So what does Katherine do after complaining about Knocked Up's writing? She goes ahead and appears in films like 27 Dresses, The Ugly Truth, Killers, Life as We Know It, New Year's Eve, One for the Money (a "classic") and The Big Wedding. What do all these films have in common? They're all terrible. Out of all of those I've seen 27 Dresses and The Ugly Truth and, by my estimation, The latter is far more sexist than Knocked Up ever was and yet you didn't hear a peep out of her. Her career got to a point where she even did a non-speaking commercial for a cough medicine, seriously. But I digress, the reason I bring this up is that, despite my dislike for her as an actress, she does have some acting talent. I don't think anyone will ever claim her to be the next Meryl Streep or something, but she does have some talent that she puts on display here. Of course, I could also claim that the characterization of Mona is incredibly sexist, being that she's a very domineering, emasculating, insufferable wife, but that's none of my business. I'm not saying she is like this in real life, but I've always thought that actors do better when they're playing a somewhat exaggerated version of themselves. I'm sure Katherine is a perfectionist and wants things to go the way she believes they should go, much like Mona, but obviously her character is very over-the-top. As far as Patrick Wilson goes, he's always good so I don't really have much to complain about when it comes to the leads. The film, however, is another issue entirely. While nobody in the film off well, the women come out looking the worst of anyone. They're either monstrous or scheming to blackmail men out of money. Not that there aren't women (or men) like that in real life, it just comes across so poorly in this movie. And it'd be one thing if the film was at least good or well-written, but it is neither of those things. The exposition of the film, the first 40 minutes, are absolutely nothing to write home about. It's not like it's actively terrible, it's just that the movie always thinks its cleverer than it actually is. I just don't think that the film ever really knows what it's supposed to be. Is it satire or is it black comedy? You could say that in many cases they're similar, but those two are not always mutually exclusive. The whole movie just comes across as so outdated honestly. None of it really feels current or biting satire of suburban materialism. Nor does it do a good job at making the more violent aspects of the film that shocking. Part of the idea of this should be that you didn't know that this person could be this nasty, a person you married, but this movie just has no idea how to pull this off. No sense of style. There's also no substance. It's a pretty bad movie honestly. Some decent enough leads are simply not enough. Some parts of this movie are very ugly and partly keep the film from being better, though I certainly blame the script and the inconsistent tone more than anything else. Nothing to see here, you can all move along. Not worth watching.
Jesse Ortega
Super Reviewer
Home Sweet Hell Quotes
There are no approved quotes yet for this movie.