Homegrown
(1998)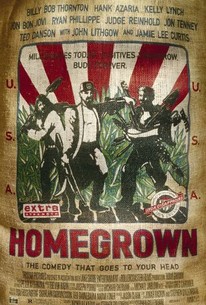 Movie Info
In this comedy thriller, set in northern California, inept but lovable pot farmers Jack Madsen (Billy Bob Thornton) and Carter (Hank Azaria) work for San Francisco entrepreneur Malcolm Stockman (John Lithgow), who arrives for a visit via copter. As soon as Malcolm steps out, the copter pilot shoots him and takes off, leaving the two aghast along with apprentice Harlan (Ryan Phillippe). Minus a boss, the naive trio deduces no paychecks are forthcoming, so they collect cannabis for a big payoff and head to the nearby town where they meet up with go-between Lucy (Kelly Lynch). However, their explanations of Malcolm's whereabouts and their sudden need to sell some of the crop arouse suspicions, while their lazy days on the dope farm have left them unprepared as businessmen seeking buyers for millions in contraband. They soon find themselves in a shadowy new world of greed, paranoia, and duplicity.
Critic Reviews for Homegrown
Audience Reviews for Homegrown
Homegrown is a harmless little comedy. It isn't spectacular, but it's off the beaten path and that usually makes for a good movie. It sags in a couple parts and writing isn't spectacular, but the characters are wacky and it's mildly enjoyable. If you're looking for a movie that doesn't fit in with the rest of the crowd, then look no further. Homegrown is your kind of movie.
Stephen Earnest
Super Reviewer
½
A great cast does nothing for this scattered, cliched, and goofy script. Still - and this may just be the great cast - there is an undeniable cheeky charm to this film that makes it memorable. But if you want a REAL film that blends drama and comedy into an absorbing believable world of fully fleshed out chracters, skip this amateurish attempt at capturing the plight of the American cannabis farmer and instead enjoy Humboldt County.
_kelly .King
Super Reviewer
Cast: Billy Bob Thornton, Hank Azaria, Ryan Phillippe, Jamie Lee Curtis, John Lithgow, Ted Danson, Judge Reinhold, Kelly Lynch, Jon Tenney, Jon Bon Jovi Director: Stephen Gyllenhaal Summary: After their boss, Malcolm (John Lithgow), gets killed, bumbling trio of marijuana farmers Jack (Billy Bob Thornton), Carter (Hank Azaria) and Harlan (Ryan Phillippe) figure they might as well take over Malcolm's lush business and cash in on $5 million worth of product. Unfortunately, they never bargained on how difficult -- and dangerous -- it is to sell so much. My Thoughts: "Man was this movie a snooze fest. Who knew a movie about some boofy (Marijuana) could be not only this boring, but in no way funny. It runs way to long for the story it is trying to tell. I kept looking at the time, which is never a good sign while watching any film. Just not worth the watch at all. Whats more surprising then this film being a bore, is how much talent is in the film. Not only the leads, but they had some cameo's from good actors like Ted Danson, Maggie Gyllenhaal, and Jamie Lee Curtis. Why they all signed on to do this film baffles me. Just a bad script and everything else."
♥˩ƳИИ ƜѲѲƉƧ♥
Super Reviewer
Homegrown Quotes
There are no approved quotes yet for this movie.