Honky Tonk
(1941)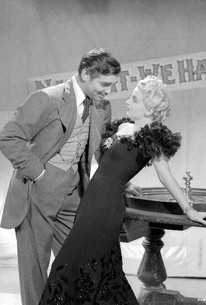 AUDIENCE SCORE
Critic Consensus: No consensus yet.
Movie Info
The marvelous rapport between stars Clark Gable and Lana Turner makes MGM's Honky Tonk seem far more substatianal than it really is. About to be tarred and featherd by an angry mob, frontier con artists Candy Johnson (Gable) and his pal Sniper (Chill Wills) manage to make a quick getaway via train. While on board, Candy strikes up a friendship with Boston-bred Lucy Cotton (Turner), whose "respectable" daddy Judge Cotton (Frank Morgan) turns out to be as big of a sharpster as Candy. For Lucy's sake, Candy decides to use his huckstering skill to good use by helping to build a small-town church, but soon he's up to his old tricks, managing a dance hall and gambling emporium. Growing more ambitious by the minute, Candy intends to take over the whole town with the covert assistance of Judge Cotton. But when Candy marries Lucy (who still doesn't know that he's really a crook at heart!), the enraged Judge exposes Candy's takeover scheme, only to be shot down by the gambling hall's straw boss Hearn (Albert Dekker). In his efforts to set things right and atone for past misdeeds, Candy is separated from Lucy time and time again, but there's never any doubt that a happy ending awaits them both. A TV remake of Honky Tonk surfaced in 1974, with Richard Crenna in the Gable role.
Critic Reviews for Honky Tonk
All Critics (2) | Fresh (1) | Rotten (1)
Though prepsoterously plotted, this vivid and colorful Western allows Clark Gable to show his macho charm and Lana Turner her sex appeal.
Audience Reviews for Honky Tonk
Lana and Clark have great chemistry and make the simple script better than it really is. Frank Morgan add a great deal to the mix as her father.
Honky Tonk Quotes
There are no approved quotes yet for this movie.