Honra e Liberdade
(2005)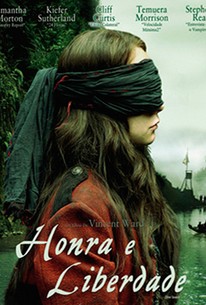 Movie Info
A woman who has come to a strange land is torn between the life she knows and the new life around her in this epic-scale historical drama. In 1854, New Zealand's indigenous Maori tribes were engaged in an ongoing battle to drive away European settlers eager to establish colonies in the nation's wilderness, which the Maori saw as a threat to their way of life. However, some outsiders had made a home in New Zealand with the cooperation of the Maori, and an Irish settlement had been established, with Francis (Stephen Rea), the colony's doctor, bringing his daughter Sarah (Samantha Morton) with him to this new land. Sarah becomes acquainted with the son of one of the Maori leaders, and in time their friendship grows into something deeper. When Sarah discovers she's pregnant with the chief's son's child, the father has been called off to fight against the Europeans, and by the time her son is born, his father is dead. Sarah raises her child, whom she simply calls "Boy," but when Boy reaches the age of six, he's abducted by his father's family, who believes he should grow up among the Maori. Fearing further reprisals, Francis returns to Ireland, but Sarah stays behind to care for the sick and look for her son. Years later, while in search of Boy, Sarah encounters Wiremu (Cliff Curtis), a Maori warrior whose father Te Kai Po (Temuera Morrison) is ill. When Wiremu learns that Sarah is well versed in medicine, he makes an offer -- if she will treat Te Kai Po and return him to health, he will find Boy. Sarah is able to cure Te Kai Po's ailment, and Wiremu returns the now-teenaged Boy (David Rawiri Pene) to his mother. Boy is not eager to leave behind the Maori people who have become his family, and he and Sarah stay with Te Kai Po's tribe for a while, but in time she is drawn back to the Irish colony, where she finds herself torn between Doyle (Kiefer Sutherland), the soldier who loves her and wishes to protect her, and Wiremu, who she has grown to love.
News & Interviews for Honra e Liberdade
Critic Reviews for Honra e Liberdade
Audience Reviews for Honra e Liberdade
Here is an intriguing movie about a young woman caught between two different worlds in 1860s New Zealand. Young Sara learns the talent and skills of stitching and sewing open flesh from her father. Employed with the army that is set upon colonizing the lands belonging to the Maoris, young Sara and her family trudged along the coast of the river bends. She meets a young Maori boy, and the two grow up together and begin to share a love that is short-lived (when Tommy Boy dies of sickness). Her son is then taken away by his family, she searches for him along the river for years. Her search brings her deep into Maori country. Great cast- Samantha Morton, Cliff Curtis, Kiefer Sutherland, and Temuera Morrison. Worthy!
Honra e Liberdade Quotes
There are no approved quotes yet for this movie.