Hoop Dreams
(1994)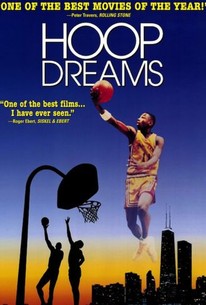 TOMATOMETER
AUDIENCE SCORE
Critic Consensus: One of the most critically acclaimed documentaries of all time, Hoop Dreams is a rich, complex, heartbreaking, and ultimately deeply rewarding film that uses high school hoops as a jumping-off point to explore issues of race, class, and education in modern America.
Movie Info
This documentary about the aspirations of high-school basketball players from inner city Chicago won awards from the Sundance film festival, the New York Film Critics Circle, and the Academy Award (Oscar) for best editing. Two young men are followed during their entire high-school career, beginning with their participation in playground games and ending with their being recruited by colleges. The obstacles these young men face include parental drug addiction, family poverty, and inner-city violence, as well as the usual obstacles that arise in competition, including physical injuries. While each aspires to leave the ghetto, there are many reasons to suppose they may not be able to, despite each beating the odds against them by winning college scholarships.
Critic Reviews for Hoop Dreams
Audience Reviews for Hoop Dreams
Two Chicago-area teens undergo a myriad of struggles as they hope to one day play in the NBA. I remember when this film came out and Siskel and Ebert almost creamed themselves over it and had a collective apoplectic fit when it wasn't nominated for Best Documentary. Conflating themes of race, poverty, urban violence, parenting, education, and the illusory American Dream, Hoop Dreams offers a lot to chew on, making it understandable that professional critics would find it so riveting. I agree that it is an extraordinary film that has a profound and wide scope (though I wouldn't go so far as Hal Hinson who calls it "The most powerful movie about sports ever made"). And though Gates and Agee are occasionally unlikable, they are interesting, flawed and human in readily identifiable ways. The one thing I didn't like was the "degree of embeddedness." It seemed like the documentarians checked in on their subject regularly, and thus we don't get to see some of the profound changes like the birth of Gates's kid or the histrionics of Agee's father. Overall, even though nothing could live up to the hype that originally surrounded this film, Hoop Dreams is a profound portrait of American life and our pursuit of happiness, which often gets confused with the pursuit of money and fame.
Jim Hunter
Super Reviewer
The best documentary ever made concerning two young boys in Chicago who dream of becoming pro basketball players some day, and how their lives intertwine and how each faces disappointment and life-altering decisions as they get older. Director Steve James has crafted a three-hour epic that blows by at a lightning speed pace, all while exploring every facet of these boys lives. Even more tragic is that fact that some of the family members in the movie have been murdered in street-related violence since this film was made. It is hands down one of the most depressing films I have seen, but one of the best in terms of detailing race, class, education, and the crazy expectations we put on phenoms from Day 1. Even if you do not like basketball, the film serves more of a microcosm of late 80's/early 90's culture in the city and how important the sport of basketball is, and how more important life and getting an education is in the end.
Dan Schultz
Super Reviewer
½
A documentary that is about much more than basketball, this is filmmaking at it's finest.
Graham Jones
Super Reviewer
Hoop Dreams Quotes
There are no approved quotes yet for this movie.