Hoosiers
(1986)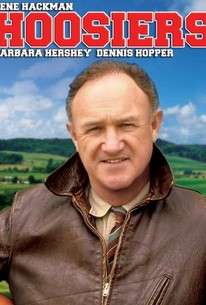 TOMATOMETER
AUDIENCE SCORE
Critic Consensus: It may adhere to the sports underdog formula, but Hoosiers has been made with such loving craft, and features such excellent performances, that it's hard to resist.
Movie Info
Nominated for two Oscars (R) and hailed by Sports Illustrated and ESPN as one of the best sports movies of all time, Hoosiers is a triumphant tale of a high school basketball team's long-shot attempt to win the state championship. Filled with edge-of-your-seat suspense and breathless excitement, Hoosiers featuring "fast-break cinematography that catches the pace of the game" (The Washington Post) and powerful performances from Gene Hackman, Barbara Hershey and Dennis Hopper, Hoosiers is "a winner" (Boxoffice)!
News & Interviews for Hoosiers
Critic Reviews for Hoosiers
Audience Reviews for Hoosiers
Hoosiers is one of the finest sports dramas that have ever been made. The film managed to set the standard for all to follow. I've seen my fair share of sports films, and Hoosiers ranks among the essential films to watch. The film has a simply story, yet has plenty of heart to really make it a standout feature that boasts a great cast of actors headed by Gene Hackman. The film is engaging from start to finish. Hoosiers for me is one of the better films dealing the sport of Basketball. There has been other films tackling the sport, but none has had the power of capturing your attention that Hoosiers. The film, I thought wasn't clichéd, unlike every recent genre film. I much prefer this subtle Sports film due to the fact that it doesn't overdo anything. Hoosiers is a well constructed drama that will surely appeal to genre fans, and if you're skeptical about seeing this due to that fact that there have been countless films of the same nature in recent years, well be prepared to enjoy this film as it is a well acted, directed movie that tells a terrific story. Even if you're not a fan of the sport, this is worth seeing due to the cast, its story and its heart. Filmgoers will surely love this movie, and it still is a genre classic that has yet to be outdone. If you love a good, well structured drama, Hoosiers is the film for you. Hackman is terrific in his performance and it adds so much to the overall enjoyment of movie. Hoosiers is a terrific Sports film than anyone can enjoy no matter if you follow the sport or not.
½
Coach Norman Dale: Welcome to Indiana basketball.  "They needed a second chance to finish first." Hoosiers is one of the most manipulative films you'll ever see. Everything the movie does is designed around manipulating the audience as much as possible. Every foul seems to be against Hickory. The referees seem very one sided towards the opponent. The townspeople are against the coach. The underdog story is amped up twentyfold here and no ones hiding that fact. Yet, unlike other films, the manipulation here doesn't piss me off. It seems almost necessary, while in other films, it seems all to unnecessary.  When I was a young kid, my whole life was sports. I wouldn't watch a movie unless it had something to do with sports. Hoosiers was one of my favorites. I haven't watched it in probably 8 of 9 years, except for glimpses on the television, so reuniting with it was special and enjoyable. The film is very heartfelt in all regards. While it is a story about an underdog team who makes it to the state championship; it is more about second chances then anything else. Coach Dale was suspended from his collegiate coaching job and hasn't coached in something like 10 years. This is his second chance. There's a drunk father, who knows a lot about basketball, who gets a second chance when Coach Dale asks him to help out. A player walks out during the first practice, but gets a second chance when the coach allows him back on the team. Another player doesn't listen to his coach and gets benched, but gets a second chance when he is allowed to play again. The second chance theme is all over this film. It's basically a walking advertisement for the saying, "Everyone deserves a second chance" and just about everyone in the film gets one. Hoosiers is a film that is just a good time to watch. You really find yourself cheering for the team, which is a trait of a good sports oriented movie, like Friday Night Lights. If you don't feel like a fan of the team who is being filmed then the film has failed. You'll definitely cheer for this team, and if you don't, you probably don't have a heart. The movie has some really good performances from Gene Hackman, Barbara Hershey, and Dennis Hopper. All in all, it's a one of a kind sports drama, that although predictable and as I said earlier, highly manipulative, is one you should be able to enjoy time and time again.
Melvin White
Super Reviewer
Hoosiers is an incredible sports film and my #2 favorite sports film of all time (behind Rudy).
Jim Careter
Super Reviewer
Hoosiers Quotes
There are no approved quotes yet for this movie.