Hope Springs
(2003)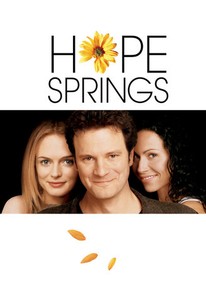 Movie Info
Not a sequel to 1998's Hope Floats, Hope Springs is a romantic comedy based on the 2001 novel New Cardiff, the first new book in over 20 years by Charles Webb, author of The Graduate. Directed and written for the screen by Mark Herman (Brassed Off), the film stars Colin Firth as lovelorn British artist Colin Ware. After being left by his fiancée Vera (Minnie Driver), Colin takes to sulking about in a small Vermont hotel run by Joanie Fisher (Mary Steenburgen). When Joanie becomes aware of Colin's broken heart, she decides to match him up with a local woman named Mandy (Heather Graham). But just as romance begins to ensue between Colin and Mandy, Vera suddenly pops back into the picture with intentions of rekindling her relationship with Colin. Oliver Platt heads up the supporting cast that also includes Frank Collison and Chad Faust.
Critic Reviews for Hope Springs
Audience Reviews for Hope Springs
½
I picked up an ex rental for $2, and I think I still paid too much. I usually don't mind Heather Graham's rom coms, even the silly ones, but this was just crappy. Wtf with her getting drunk in the car and then taking off all her clothes. It was like watching a special needs person. Also, the sound on the dvd is atrocious. The music is much louder than the speaking, so I had a choice between keeping the volume low and not being able to hear all that was said, and keeping it high and having music blast out loudly - as in, neighbours will complain, loudly. I lasted 40 minutes. Just long enough got Minnie Driver to show up. It's a pity she and Colin didn't just go home at this point and end the movie.
Nicki Marie
Super Reviewer
I am a fan of both Colin Firth and Minnie Driver. This is not my favorite film but it is funny and worth seeing. Colin plays an artist whom lives in England with his love (Driver). When she leaves him Colin decides to have a big change by moving to New England. While staying there he encounters many ineresting characters such as the hotel's owner (the wonderful Mary Steenburgen)and her husband. At the same time he meets a beautiful off the wall lady (Heather Graham). Will home call him back to his 1st true love or stay in the states is for you to find out.
Mason Williams
Super Reviewer
Genuinly good film. The twists are great.
Barry Lappin
Super Reviewer
Hope Springs Quotes
| | |
| --- | --- |
| Colin Ware: | I'm totally unshakable on this. |
| Vera Edwards: | I can feel your resolve stiffening. |