The Horn Blows at Midnight
(1945)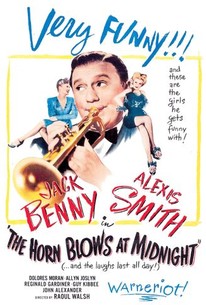 The Horn Blows at Midnight Photos
Movie Info
Though Jack Benny made a cottage industry out of joking about the purported rottenness of his 1945 vehicle Horn Blows at Midnght, the film is in fact a delightful comedy-fantasy-certainly not Benny's best film, but far from his worst. While dozing off during a radio broadcast, studio musician Athaniel (Benny) dreams he's a trumpet player in Heaven's celestial orchestra. At the behest of glamorous angel Elizabeth (Alexis Smith), Athaniel is brought into the lavish chambers of The Chief (Guy Kibbee), who has a job for our hapless hero. It seems that The Front Office, dissatisfied with the state of things on planet Earth ("just a six-day job"), has decided to destroy the tiny globe. Athaniel is to go down to New York City and blow his trumpet at midnight, thereby heralding the end of the world. Unfortunately he botches the job and remains stuck on earth as a "fallen angel" along with previous Heavenly dropouts Osidro (Allyn Joslyn) and and Doremus (John Alexander). Having persuaded The Chief to give Athaniel a second chance, Elizabeth herself comes to Earth to make sure that her sweetheart successfully completes his mission. Alas, the impoverished Athaniel has used his precious trumpet to pay for a meal, thereby setting off a chain reaction of comic complications, culminating with a Harold Lloyd-like climax wherein Athaniel is but one of six people precariously dangling from a skyscraper ledge. Evidence exists that the "dream" framework and slapstick finale of Horn Blows at Midnight were last-minute additions: A 1949 radio version of the Sam Hellman-James V. Kern screenplay is quite different, with a more sentimental and "meaningful" finale. Whatever the case, the screen version of Horn Blows at Midnight delivers plenty of laughs for Benny fans and casual viewers alike. Alas, the film proved a box-office disappointment, which was injurious for Benny's film career but a boon to his radio and TV shows, which thrived on derisive Horn Blows at Midnight jokes for the next two decades!
Critic Reviews for The Horn Blows at Midnight
Audience Reviews for The Horn Blows at Midnight
No classic but hardly the total dog Jack Benny made it out to be for years. Alexis Smith is amazingly beautiful almost matched by Dolores Moran.
Even the lovable, iconic Mr. Jack Benny himself couldn't prevent this poorly written cheese-puff from flopping at the box office. A classic example of a stupendously wonderful comedian in a stupendously awful film.
Randy Tippy
Super Reviewer
The Horn Blows at Midnight Quotes
There are no approved quotes yet for this movie.