Horror Express
(1974)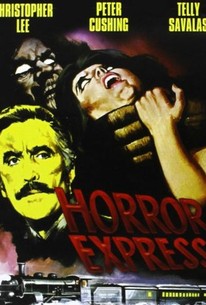 Movie Info
This horror science-fiction thriller, a cult favorite, takes place in 1907. Professor Caxton (Christopher Lee), a fossil-hunter has discovered some sort of pre-human creature frozen in ancient Manchurian ice. He is traveling to London with his find on the Trans-Siberian Railway and is horrified to discover that his frozen man is missing, and corpses and zombies are appearing all over the train. It turns out that the frozen specimen is an alien with some unusual powers. The combined forces of Professor Caxton, his rival Dr. Wells (Peter Cushing), and a Cossack captain (Telly Savalas) are needed to save the world from this monstrous being. Skillfully told, with a good dose of humor, this film also features the train which appeared a year before in Nicholas and Alexandra .
Critic Reviews for Horror Express
Audience Reviews for Horror Express
Christopher Lee and Peter Cushing are two of the most recognizable and venerated horror icons of the 50's and 60's. Their reunion in the 70's should be cause for a jubilant celebration from genre enthusiasts but 'Horror Express' is a senselessly shoddy vehicle for them. The film begins in highbrow HP Lovecraft fashion with Lee spelunking into a cave and unearthing a Neanderthal creature encased in ice (which resembles a frugal Halloween Adventure costume with vermilion-red glowing eyes). The rivalry between Lee and Cushing is amiably funny with Lee scoffing at the pompous Cushing's bribery for a luxurious seat aboard the locomotive. Cushing is so consumed with status that he nefariously pays a train attendant to drill into Lee's crate to inspect the contents. Unfortunately the score is more appropriate for a Russian espionage picture than a sinister murder-mystery. Instead of viciously massacring the passengers, the creature's gaze is the catalyst for embolisms and that truly saps the attacks of any feral appeal. The silliest motive behind the creature is its appetite for absorbing knowledge. For a film with such a short running time, the stalking-the-prey scenes drag on and ultimately that is exactly the effect of 'Horror Express' as a whole: an interminable, rudderless ship with no thrust behind it.
Cory Taylor
Super Reviewer
Entertaining parade of classic character actors like Telly Savalas,Christopher Lee and Peter Cushing battling an alien creature reminiscent of Who goes there?/The Thing's main antagonist, but on board a transsiberian, a setting which I love, even though the plot isn´t much of a novelty.
Pierluigi Puccini
Super Reviewer
½
An archeologist packs a frozen caveman head into a crate to ship it from China to Europe, but it comes to life and starts killing passengers on the trans-Siberian express. With Christopher Lee, Peter Cushing, and Telly Savalas. This Hammer-style mix of Old World elegance and goofy-assed pseudoscience makes for a tolerable ride.
Horror Express Quotes
There are no approved quotes yet for this movie.