Outside the Law (Hors-la-loi)
(2010)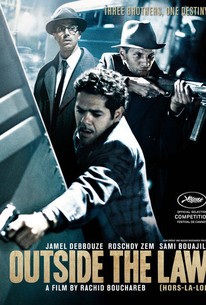 Outside the Law (Hors-la-loi) Photos
Movie Info
After losing their family home in Algeria, three brothers are scattered across the globe. Messaoud joins the French army fighting in Indochina; Abdelkader becomes a leader of the Algerian independence movement; Saïd moves to Paris to make his fortune in the shady clubs and boxing halls of Pigalle. Gradually, their interconnecting destinies reunite them in the French capital, where freedom is a battle to be fought and won.-- (C) Official Site
News & Interviews for Outside the Law (Hors-la-loi)
Critic Reviews for Outside the Law (Hors-la-loi)
Audience Reviews for Outside the Law (Hors-la-loi)
½
"Outside the Law" starts on May 8,1945 as France celebrates its victory in World War II by brutally repressing a peaceful independence march in Algeria. This interrupts the boxing match promoted by Said(Jamel Debbouze) while his brother Abdelkader(Sami Bouajila) somehow barely escapes with his life with an Algerian flag before being arrested and sent to prison in France. Messaoud(Roschdy Zem), another brother, ends up in the French army where he gets to be lectured by the Vietnamese in a prison of war camp on the right way to overthrow his colonial masters. Their mother(Chafia Boudraa) is not so much interested in any of that, as she is in possible grandchildren. In depicting the violent struggle for Algerian independence, "Outside the Law" is as subtle as an explosion. Its main problem is in never going deeper than the historical record in sounding like a doctrinaire debating society at times when instead it should have been more interested in developing the various characters, especially as how they might have been affected by the casual racism of the era. Admittedly, the movie does improve as it goes on, and there is a nice subplot involving Abdelkader. Otherwise, what you basically have here is an old fashioned gangster flick with the FLN vs. MNA vs. the French authorities. This could not have been the intent of the filmmakers, could it? I mean I know the Algerian independence movement was baptized in blood but nobody asked if there could have been a better way?
½
Director Rachid Bouchareb follows up his 2006 Academy Award nominated "Days of Glory," with yet another masterwork of cinema. I think this is an even better film than "Days of Glory" aswell.
Outside the Law (Hors-la-loi) Quotes
There are no approved quotes yet for this movie.