The Horse's Mouth
(1958)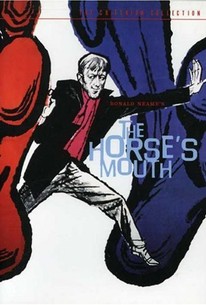 Movie Info
The Horse's Mouth is an acting and a writing tour de force for Alec Guinness, who authored the screenplay in addition to starring in the film. Gulley Jimson (Alec Guinness) is an aging artist with a reputation as a genius, though he lives an impoverished life. Jimson has reached the point in his life where he no longer feels any need to moderate his irascible persona -- he has a taste for alcohol and a tendency toward boisterous spirits where the ladies are concerned -- in search of canvasses to paint and commissions that will allow him to live comfortably, and Guinness lives the role to the hilt. Released from jail for some indiscretion, he immediately begins harassing his wealthiest patron, Hickson (Ernest Thesiger), for money. When that fails, he insinuates himself into the home of a would-be patron, Sir William and Lady Beeder (Robert Coote, Veronica Turleigh), and manages to destroy their home and that of their downstairs neighbor with a huge block of stone and some help from a sculptor friend (Michael Gough). Courted by a potential buyer, he is desperate to retrieve one of his early works from his former wife, but even that prospect is closed off to him. Finally, with help from his young admirer, Nosey (Mike Morgan), his friend, Coker (Kay Walsh), and some art students eager to work with the legendary Gulley Jimson, he begins painting his largest canvas of all. The painting is completed and promptly destroyed. Jimson finally takes off in his wreck of a houseboat for the open sea, eyeing the huge hulls of the passing ships as potential canvasses to paint. As he disappears up the river, Coker looks on in panic and Nosey calls after him, declaring his admiration for Jimson and who he is and what his work means -- knowing for certain that he can't be heard. ~ Bruce Eder, Rovi
Critic Reviews for The Horse's Mouth
Audience Reviews for The Horse's Mouth
A great portrayal of artistic genius/madness. Doing the film as a comedy is probably what makes most of whats being said about the impossibility of artistic fulfillment more palatable. Guinness' performance is perfection.
Alec Barniskis
Super Reviewer
½
Alec Guinness out does himself in this comic slice of life of an all out artist visionary, ever on the lookout for his next drink, woman, or blank wall space ... and perhaps in just that order as well. Over-the-top, loud, and rambunctious, and that's before he's out of bed in the morning, his friends struggle to understand him while everyone else gazes on in sheer disbelief. A bit o'fun from England, and written by Guinness as well.
Kevin M. Williams
Super Reviewer
This bittersweet comedy, scripted by and starring Alec Guinness, came very warmly recommended, and it didn't disappoint. I suppose it could be described as one of the best films Ealing never made. Guinness is brilliant as Gulley Jimson, an eccentric, uncompromising artist in search of the perfect 'canvas' to do justice to his vision, and Guinness' own literate screenplay is good enough to make me wish he'd written a few more. The film is generally excellent, but I did occasionally catch myself wondering whether Alexander Mackendrick (Whisky Galore!, The Man in the White Suit, The Ladykillers) might have made something even more special out of it, had he directed instead of Ronald Neame. One of the things I most enjoyed about The Horse's Mouth was the look of the film, especially the location photography: the duffel-coats, the double-deckers, the drabness of suburbia; as an incidental snapshot of a time and place, for some reason it reminded me of Michael Powell's Peeping Tom. There are some very enjoyable character performances, particularly Renee Houston as Jimson's sweetly devious ex-wife and Kay Walsh as his abrasive but kindhearted female friend. Mike Morgan, who plays Gulley's devoted follower, Nosey, died of meningitis before the film was completed!
The Horse's Mouth Quotes
There are no approved quotes yet for this movie.