The Hospital
(1971)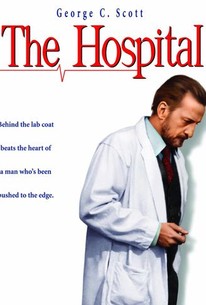 Movie Info
Hospital is a black comedy about a bitter, suicidal doctor (George C. Scott) whose hospital is being destroyed by the murders of several staff members, as well as the staff's own ineptness. Eventually, he falls in love with a young woman (Diana Rigg), who just makes his world more confusing. The film is a black satire, and the witty, satirical Academy Award-winning screenplay by Paddy Chayefsky makes it a very entertaining comedy.
Critic Reviews for The Hospital
Audience Reviews for The Hospital
In a hospital wracked with bureaucracy and poor patient care, a suicidal doctor struggles to find meaning in his work and life. Part black comedy, which is drawn from the absurdity of reality, and part serious drama, The Hospital is one of the best films about the medical profession that I have ever seen. Incredible in its verisimilitude, Paddy Chayefsky's screenplay is smart, incisive, and passionately written. George C. Scott's performance is one of the best of his career, and his "freedom for the impotents" monologue is an enviable, engaging piece of acting. At its core, The Hospital is about how even the most human of moments fails to satisfy a deep urge to connect with our own humanity. It's about the disappointments of life, how they wear on us, turning us into unrecognizable automatons. The characters reach for meaning, and disappointed, they reach again, harder and more desperate. Overall, I love this film, and not only should it be required viewing in every medical school, its themes transcend a particular profession or historical moment.
Jim Hunter
Super Reviewer
Paddy Chayefsky is almost infallible at giving the toughest and loudest social and existencial commentaries under the veil of comedy. He did that flawlessly in "Marty" and "Network", and although here he doesn't , still the film packs a good punch to the establisment. George C. Scott is magnificent, as always. His rage and tortuous pain seem on the surface all the time, like he really was the character he plays. The story looses up a bit by the end, while the first half is wonderfully cynic.
Pierluigi Puccini
Super Reviewer
½
The script is great, but the execution is flawed. Several times the film loses it's grasp on it's tone and stumbles as a result. Diana Rigg is SOOOOOOOOOOOO HOTTTTTTTTTT in this though, it almost makes up for it. And I could have done without the rape scene too.
Ken Stachnik
Super Reviewer
The Hospital Quotes
There are no approved quotes yet for this movie.