Hospital Massacre (Be My Valentine, or Else...)(Ward 13)
(1982)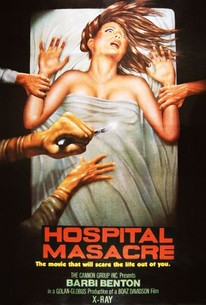 AUDIENCE SCORE
Critic Consensus: No consensus yet.
Hospital Massacre (Be My Valentine, or Else...)(Ward 13) Photos
Movie Info
This lurid, misogynist slasher opus employs the usual "20 years later" motif in its presentation of a heavy-breathing maniac (Chip Lucia) who has been relentlessly stalking the now-grown object of a jilted childhood crush (former Playboy playmate and '80s television staple Barbi Benton). He finally tracks her to the hospital where she has arrived for a routine physical and switches her x-rays with those of a terminally ill patient in order to buy more time in which to plan the ultimate realization of his revenge. His actions are timed to coincide with Valentine's Day, exactly 20 years after he murdered her brother (depicted in one of the most hilariously contrived death scenes in horror film history) in retaliation for laughing at his timid attempts to woo her. While Benton is dutifully stripping down for gratuitous head-to-toe examinations, the killer is busily roaming the halls in surgical garb, slaughtering doctors, nurses, and patients alike with a wide assortment of medical equipment.
Critic Reviews for Hospital Massacre (Be My Valentine, or Else...)(Ward 13)
There are no critic reviews yet for Hospital Massacre (Be My Valentine, or Else...)(Ward 13). Keep checking Rotten Tomatoes for updates!
Audience Reviews for Hospital Massacre (Be My Valentine, or Else...)(Ward 13)
During the slasher craze of the 1980's, many films have come out, and have since forgotten due to the fact that there have been many other films that have overshadowed their existence. One such film is Hospital Massacre. This is a genre film that doesn't try anything new with its formula, and it is just a collection of clichés with an average plot. The strength of the film lies in its effective kill sequences, which are quite bloody, and creative. The film could have been better, but it definitely manages to be a good Slasher film for genre fans looking for an underrated, obscured flick. The film leaves a lot of room for improvement, but overall it is a well crafted horror yarn that relies on a brooding sense of atmosphere to build its tension. This is a worthy addition to the genre, and though far from perfect, it still gives genre fans something that is entertaining to check out. The kill sequences are what makes up for the forgettable performances. If the script would have been rewritten, this Slasher could have stood out among the very best in the genre. As it is, it's a good outing, and one that is sure to please the most diehard of fans. Hospital Massacre is a bit different, and does offer some tense atmosphere, which is what most films lack. However, most of the time relies on all the ingredients that have made the genre popular among fans. The film is a must see for fans of obscured horror yarns, and though lacking in great story, the gore and kill sequences more than make up for it.
No real plot, decent level of kills and violence but it's Barbi Benton that saves the film from becoming a(nother) forgettable slasher of the 80s.
A.D. Villarreal
Super Reviewer
Hospital Massacre (Be My Valentine, or Else...)(Ward 13) Quotes
There are no approved quotes yet for this movie.