Hostel
(2006)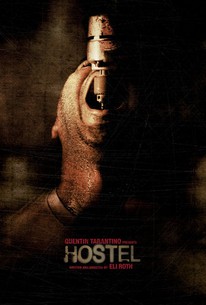 TOMATOMETER
AUDIENCE SCORE
Critic Consensus: Featuring lots of guts and gore, Hostel is a wildly entertaining corpse-filled journey -- assuming one is entertained by corpses, guts, and gore, that is.
Movie Info
Two adventurous American college buddies, Paxton and Josh, backpack through Europe eager to make quintessentially hazy travel memories with new friend Oli, an Icelander they've met along the way. Paxton and Josh are eventually lured by a fellow traveler to what's described as a nirvana for American backpackers -- a particular hostel in an out-of-the-way Slovakian town stocked with Eastern European women as desperate as they are gorgeous. The two friends arrive and soon easily pair off with exotic beauties Natalya and Svetlana. In fact, too easily. Initially distracted by the good time they're having, the two Americans quickly find themselves trapped in an increasingly sinister situation that they will discover is as wide and as deep as the darkest, sickest recess of human nature itself -- if they survive.
News & Interviews for Hostel
Critic Reviews for Hostel
Audience Reviews for Hostel
½
A good horror film but overhyped. Didn't think it was any more gory than most other recent horror films. Seen far more gore in many low budget horrors.
It starts out as a stupid dope and sex comedy for a while before things get uncomfortable and ultimately unbearably cruel. And for the longest time it's easy to keep your distance to the film, shake your head at the mediocre acting and unrealistic character decisions. In the last 30 minutes the film goes so batshit crazy, incredibly cruel and basically out of its way to give each character what they deserve that it's actually kinda fun. At least if you don't mind watching someone's eye hanging out of the socket getting cut off with a pair of scissors. Insane.
After giving the first Hostel a second viewing, I found myself liking it more than the first time. The first time I saw this film, I absolutely despised it. I didn't like it whatsoever. I don't know what I liked from the second viewing, but I guess that it what it was supposed to. The gore is unrelenting, this film is violent and disgusting, and it's a true thrill ride and brings Horror porn to a whole new level. Eli Roth is a fairly decent director; I also enjoyed his first film, Cabin Fever. Hostel is definitely not for the faint of heart, there are some strong graphic scenes of violence that even the strong stomachs won't be able to tolerate. A decent enough film, only the second time around Hostel was a good film but I personally prefer the Saw series. Hostel has definitely unnerving sequences that aren't for the squeamish. The film is very much a different type of film than the Saw series, but it still has the vibe. Hostel is yet another gore riddled torture porn horror flick that will most likely appeal to fans of horror that enjoy good gore. This is the only film in the trilogy that I enjoyed, and that I really recommend. This is worth watching if you want something a bit different, and very disturbing. This definitely one of few original ideas for a horror films that works. The film has its flaws, but Eli Roth delivers a good flick that definitely is worth your time. This is a work of a director who took a risk, and it has definitely paid off.
Hostel Quotes
| | |
| --- | --- |
| Josh: | You. Why? |
| The Dutch Businessman: | I always wanted you to be a surgeon...but boards wouldn't pass me. Can you guess why? |
| The Dutch Businessman: | I always wanted you to be a surgeon but boards wouldn't pass me. Can you guess why? |
| | |
| --- | --- |
| Josh: | Look at those factories. |
| The Scarred Cab Driver: | What? There? There we make plastic for Slovakya. |
| Paxton: | Is that so? |
| | |
| --- | --- |
| Natalya: | I get a lot of money for you. And that make you my bitch. |
| | |
| --- | --- |
| Natalya: | jajajajajajaja |
| Natalya: | You are so serious. MR. SERIOUS AMERICAN. |