Hostel: Part III
(2011)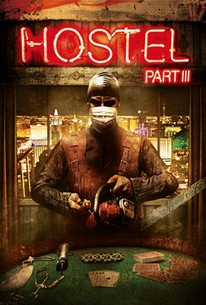 Movie Info
More vacationers are tortured for a fee in this third installment of the Hostel film series, this time being steered by director Scott Spiegel (Intruder) and writer Michael D. Weiss. Franchise creator Eli Roth returns to handle producing duties.
Critic Reviews for Hostel: Part III
Audience Reviews for Hostel: Part III
Sequels are never good, this appears to continue the franchise for the sake of trying to be shocking.
Film Crazy
Super Reviewer
MisterYoda ?
Super Reviewer
½
Hostel 3 is a pretty decent horror yarn that is actually better than the lacking part 2, which only relied on the first film for its ideas. At least this third film by Intruder director Scott Spiegel offers something refreshing and interesting for fans of the original Hostel. With an entirely different setting, and new ideas at hand, the filmmakers were able to craft a respectable third chapter in this series of torture porn horror flicks. The film has plenty of flaws, such as questionable dialogue and performances, but it delivers in its ideas that director Spiegel tries to convey. There are some good ideas at work, but most of the time, it leaves a lot to be desired, and it could have been done a bit better. Despite the flaws, there's lots of thing to please gorehonds, as this is first and foremost, a splatter, torture flick, which has lots of juicy kill scenes and it does that very well. The script has its limitations, but most of the time, the film just relies on its concept to deliver its entertainment, and sometimes, that's all that is necessary to create the memorable, disturbing moments. If you were disappointed by part 2, then this third film should definitely appeal to you. I really liked the fact that it was set in Las Vegas and that clients could place bets on how the executioners would kill off the victim. I felt it was very twisted and it was what made the film overcome its flaws and be amusing. Nonetheless, Hostel 3 is not a perfect film, and it so much potential of being a better film, however there's still plenty of effective gore elements to make this a film worth seeing.
Hostel: Part III Quotes
There are no approved quotes yet for this movie.