The Hot Chick
(2002)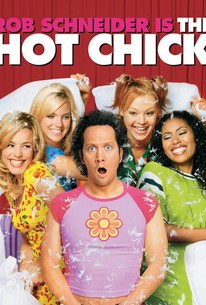 Movie Info
Jessica Spencer, a somewhat mean-spirited teen, is convinced that she has the perfect life. She's the hottest, most popular girl in high school, captain of the cheerleading squad and dating the dreamy quarterback. But she gets a big dose of reality when--due to a spell--she wakes up in the body of a thirty-year-old man. She quickly discovers that trading on your looks isn't so easy when you're a girl who constantly needs a shave. Moreover, until she can figure out how to change herself back, Jessica must find a way to win the "Cheer Competition," go to the prom, and get her boyfriend back--all while she's still a guy. In the process, she learns how shallow her life has been.
Critic Reviews for The Hot Chick
Audience Reviews for The Hot Chick
31/07/2010 (TELEVISION) No disappointment here to be honest because it delivered exactly what I expected judging from the cover. Definitely funny and it's just a nice light flick that gave me a break from my usual choices which was nice. Not a bad idea and it does have enough to keep you in your seats to check out what happens next, so it's a fairly good watch. I thought it was hilarious crap! A pretty entertaining situation and I really get a kick out of dumb stuff like this. I had lot's of fun watching this get stupid and stupider. A good choice for a groupie watch.
EightThirty .
Super Reviewer
Thoroughly enjoyable, just at times a little too much for me, especially with all the grossness that Rob Schneider puts into some of his performances.
Spencer S.
Super Reviewer
stupid and unbelievable but funny. B-
The Hot Chick Quotes
| | |
| --- | --- |
| Madam Mambuza: | Will you stop banging those drums! |
| Salesman: | I'm sorry. I'm just really getting into your story. |
| | |
| --- | --- |
| Jessica: | Booger! I told you not to go through my things! What are you doing wearing my bra? |
| Booger: | I'm not wearing it. I am simply holding it against my chest. |