Hot Saturday
(1932)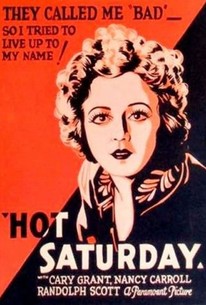 AUDIENCE SCORE
Critic Consensus: No consensus yet.
Movie Info
This comedy/drama (which is really more drama) tells the tale of Ruth Brock (Nancy Carroll), a young woman who is at odds with the pace and texture of life in her small town. On the one hand, she is a dutiful daughter and the sole supporter of her aging father (William Collier, Sr.), home-maker mother (Jane Darwell), and younger sister (Rose Coghlin); she works at the local bank in her small upstate town and, from the looks of the film's opening sequence at the bank, may be the most serious and diligent employee under the age of 50 that the bank has. But she's also got a fun-loving, flirtatious side, which comes out when she's in the company of young men, especially her boyfriend and co-worker Conny Billup (Edward Woods). Invited to a party at the local getaway at a nearby lake, she is sidetracked briefly by the attentions of Romer Sheffield (Cary Grant), the town's resident ne'er-do-well -- a playboy of independent means who takes pleasure in the gossip that he knows is stirred by his every move, Sheffield does as he likes, without a care about what anyone thinks. That's fine for him, but his flirtation with Ruth causes her all kinds of problems -- in a fit of jealousy, Conny abandons her at the lake in the middle of the night, and in the ensuing confusion the whole town soon thinks that Ruth was alone with Sheffield at his mansion for hours, till two in the morning, and immediately believes the worst of her. She is fired from her job and can't even speak any longer to anyone in town. Her own mother, who is mostly concerned with the loss of her salary, attacks her. And then a ray of hope arrives in the person of Bill Fadden (Randolph Scott), a one-time neighbor boy who left to become a geologist, and is passing through on his way to do a survey nearby. He's loved Ruth since he was a teenager, and hasn't seen her in years, and their chance meeting in her parents' house leads the to two to decide to marry. But Conny, still jealous and now angry, successfully poisons Bill's image of her. He rejects her, and Ruth's world seems to be collapsing around her once again, until she realizes that her one real chance for redemption lies with the man who started it all, Romer Sheffield.
Critic Reviews for Hot Saturday
All Critics (2) | Fresh (2) | Rotten (0) | DVD (2)
Do yourself a favor and screen "Hot Saturday" to see a once-genuine superstar, Nancy Carroll, at her peak, before her sad slip into oblivion.
Agreeable dramedy about enduring life in small town America when gossips become malicious and an innocent girl loses her reputation.
Audience Reviews for Hot Saturday
This is an okay drama, but it's predictable, and I don't like the ending. Grant has a sort of small role too. I was disappointed with this movie, but it's not too horrible.
Hot Saturday Quotes
There are no approved quotes yet for this movie.