Hot Tub Time Machine
(2010)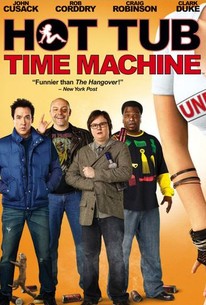 Hot Tub Time Machine Photos
Movie Info
"Hot Tub Time Machine" follows a group of best friends who've become bored with their adult lives: Adam has been dumped by his girlfriend; Lou is a party guy who can't find the party; Nick's wife controls his every move; and video game-obsessed Jacob won't leave his basement. After, a crazy night of drinking in a ski resort hot tub, the men wake up, heads' pounding, in the year 1986. This is their chance to kick some past and change their futures - one will find a new love life, one will learn to stand up for himself with the ladies, one will find his mojo, and one will make sure he still exists!
News & Interviews for Hot Tub Time Machine
Critic Reviews for Hot Tub Time Machine
Audience Reviews for Hot Tub Time Machine
½
I did not to expect to enjoy this movie so much or laugh so hard, and I still laugh with each repeated viewing. One reason my expectation were low is that the whole time travel concept is so played out. However, with a title as ridiculous as this one, you know you're going to have fun! The plot delivers hope for all who have regrets and for whom life has churned out disappointments, but mostly it's the interplay between the characters that delivers. Cusack irritates me mostly, but not in this film-he's the rock that holds the group together. Its Rob Corddy's character Lou, that holds this film together. He's the loser friend that we all have who just wants to relive his glory years, and you get to do it with him here-and better the second time around (Louggle!) I love Craig Robinson in this too; I'd like to see more of his work. This is the best time travel movie since Back to the Future and one of the best buddy comedies in years. I like this one more than Wild Hogs or even The Hangover. Since this is my generation, nostalgia does contribute to the experience, but anyone will enjoy this visit to the glory days of MTV and "Red Dawn." Don't you wish you'd been at Kodiak Valley for Winterfest 86?
Clintus Maximus
Super Reviewer
Well. I guess you can say this is the best movie about a hot tub time machine that I've ever seen. But I mean, the sequel's coming out soon, so who knows.
Alice Shen
Super Reviewer
½
Was this film necessary? I think not -- unless you're a child of the 1980s who never matured emotionally. Awful acting and a worse script. The costumes were the only redeeming element of the film.
Christian C
Super Reviewer
Hot Tub Time Machine Quotes
| | |
| --- | --- |
| April: | You gotta embrace the chaos. You have to. That way, life might just astonish you. |
| | |
| --- | --- |
| Nick: | First of all, Fuck you motherfucker! |
| | |
| --- | --- |
| Lou: | Wait, I know that squirrel. That's a magic fuckin' squirrel! |
| | |
| --- | --- |
| Nick: | What Color's Michael Jackson? |
| Nick: | Excuse me miss, what color is Michael Jackson? |