Hotel
(2003)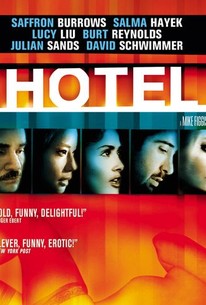 TOMATOMETER
AUDIENCE SCORE
Critic Consensus: Hotel earns a handful of points for sheer ambition, but they aren't enough to carry the movie over its steep pretensions.
Movie Info
Following up on his innovative work Timecode, which featured four stories being told in real time simultaneously, Mike Figgis returns to a modified form of his technique in this film about the tourists, the prostitutes, the tour guides, a killer, and a film crew who frequent the Hungarian Palace Hotel in Venice, Italy. A corrupt Eastern European politician and his moll are visiting the city to complete a shady business deal while Sophie is a high-priced call girl who makes an office in one of the hotel's suites. The film crew is attempting to shoot a Dogma 95-style adaptation of John Webster's +The Duchess of Malfi only to run into one problem after another. Magic is a professional assassin with a very odd kink -- he must have sex immediately after completing a job. Quintus, who abandoned his attempts to get fame and fortune as an actor, is a tour guide with an unusual secret. And then there is maid who not only has the skeleton key to the hotel, but also a habit of snooping. This film was screened at the 2001 Toronto Film Festival.
Audience Reviews for Hotel
½
[font=Century Gothic]With "Hotel", director Mike Figgis cuts down on some of the same techniques he used in his previous experimental film, "Time Code", like multiple images and filming in real time(which works better in a thriller like "24", anyway). This time he comes up with something approaching a lucid narrative. The movie is about the production of a film version of "The Duchess of Malfi" in Venice under Dogme 95 rules(although technically you could not make a period piece under those rules...) by a maniacal director(Rhys Ifans) which is being recorded for posterity by a documentary filmmaker(Salma Hayek). [/font] [font=Century Gothic][/font] [font=Century Gothic]"Hotel" gets off to a good start but becomes incoherent about the time that Burt Reynolds shows up. There are several sex scenes which have no context and a mistaken identity subplot is never resolved. Michael Winterbottom did a much better job and had much more fun with with the similarly themed "Tristram Shandy: A Cock and Bull Story".[/font] [font=Century Gothic][/font] [font=Century Gothic]It seems like the large and varied cast is improvising much of the dialogue, giving actors including Rhys Ifans, Salma Hayek and Julian Sands free rein to dominate over everybody else. Surprisingly, David Schwimmer is the calm in the middle of the storm.[/font]
Hotel Quotes
There are no approved quotes yet for this movie.