Hotel Artemis
(2018)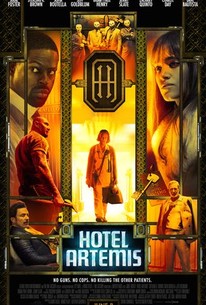 TOMATOMETER
AUDIENCE SCORE
Critic Consensus: Hotel Artemis has a few flashes of wit and an intriguing cast, but mostly it's just a serviceable chunk of slightly futuristic violence -- which might be all its audience is looking for.
Movie Info
Set in riot-torn, near-future Los Angeles, HOTEL ARTEMIS is an original, high-octane action-thriller starring Jodie Foster as The Nurse, who runs a secret, members-only hospital for criminals. Jodie Foster is joined by an all-star cast that includes Sterling K. Brown, Sofia Boutella, Jeff Goldblum, Brian Tyree Henry, Jenny Slate, Zachary Quinto, Charlie Day, and Dave Bautista.
News & Interviews for Hotel Artemis
Critic Reviews for Hotel Artemis
Audience Reviews for Hotel Artemis
½
Thoroughly entertaining sci-fi thriller set in an hotel functioning as an emergency room for the criminal society of riot-ridden future L.A. The film keeps this premise somewhat basic, taking place almost entirely in the corridors and rooms, relying on a great cast and interesting characters. The latter could have had a few more layers here or there but the way to the really good showdown is interesting enough and the payoff ultimately worth it.
If the John Wick movies were to get a TV series (and for one reason or another, I imagined this as an animated TV series) this would definitely be a treatment for a five or so episode-arc as Foster's Nurse and Bautista's Everest would be series regulars and Brown's Waikiki a recurring personality that would likely, eventually, befriend the titular assassin when he opted to stay at the Artemis instead of the Continental. Not enough Goldblum, but plenty of sharp dialogue and striking compositions from first-time feature director Drew Pearce. Good enough fun.
Philip Price
Super Reviewer
½
FOSTER CARE - My Review of HOTEL ARTEMIS (2 1/2 Stars) I know it's tough getting butts in seats at movie theaters if a film doesn't have a Marvel or DC Comics connection. Viewers consider dramas Netflix bait and only big dumb comedies, horror, and animated films seem to have a fighting chance against the superheroes. One recent development, which I support wholeheartedly, is the counter programming attempt made with exploitation films such as REVENGE, UPGRADE, and now HOTEL ARTEMIS, a somewhat impressive first feature by IRON MAN 3 scribe, Drew Pearce, and Jodie Foster's first starring role in 5 years. Now don't get me wrong, it's far from great, but at least it's strange. Set in 2028 Los Angeles, a city besieged by riots when water becomes privatized, criminals seek refuge at the titular, members-only hotel, which acts as a combination hiding place and hospital. Run by Foster's "Nurse", the hotel has a dingy, noir-ish quality yet features high tech medical equipment. As long as you pay your dues and there's a bed available, the Hotel Artemis welcomes you. Sterling K. Brown and Brian Tyree Henry serve as our entree to the place after taking multiple gunshots after a robbery attempt. Foster gets an incredible introduction as she rises from sleep to help these men. Looking haggard way beyond her years and adopting a Keyser Soze gait, she springs into action. Pearce directs these sequences with great efficiency, helped greatly by cinematographer Cung-hoon Chung (THE HANDMAIDEN, IT), delivering a taut intensity to the storytelling. Unfortunately, we settle into the hotel and its many occupants for the long run, creating a claustrophobic experience which, while never slack, just ends up feeling like a play with a lot of gory fight scenes. The terrible FREE FIRE from 2016 springs to mind, and that's not good. Despite the best efforts of a great cast, I wanted to check out of this hotel sooner rather than later (Forgive the wretched pun). Still...Jodie Foster invests so much in this role and triumphs. She's quirky, odd, fierce, and totally in charge. Anytime Foster takes a role, I sit up in my seat, as I feel she makes choices carefully, while not always successfully. This feels like a chance for her to dive into character acting and she's fantastic. She also has great rapport with Dave Bautista (GUARDIANS OF THE GALAXY) as her Muscle. I also loved seeing Jeff Goldblum and Zachary Quinto playing against type, Charlie Day shining in the Sam Rockwell role, Jenny Slate as a wounded cop with an interesting connection to the story, and Sofia Boutella (a knockout in ATOMIC BLONDE) carrying some of the best action sequences. HOTEL ARTEMIS feels like an unlikely mashup of other films. There are bits of BARTON FINK, a LOT of ESCAPE FROM NEW YORK, PANIC ROOM, and TERMINATOR. It's late 70s/early 80s sensibility set against its 1930s decor yet mixing in futuristic technology makes for a vibrant sensory experience. It's a shame that it ends up feeling like a fairly lifeless trap. There's a good premise here, but it just has nowhere to go.
Glenn Gaylord
Super Reviewer
Hotel Artemis Quotes
There are no approved quotes yet for this movie.