Hotel Mumbai
(2019)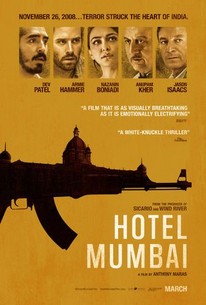 TOMATOMETER
AUDIENCE SCORE
Critic Consensus: Its depiction of real-life horror will strike some as exploitative, but Hotel Mumbai remains a well-made dramatization of tragic events.
Movie Info
A gripping true story of humanity and heroism, HOTEL MUMBAI vividly recounts the 2008 siege of the famed Taj Hotel by a group of terrorists in Mumbai, India. Among the dedicated hotel staff is the renowned chef Hemant Oberoi (Anupam Kher) and a waiter (Academy Award-Nominee Dev Patel, Slumdog Millionaire) who choose to risk their lives to protect their guests. As the world watches on, a desperate couple (Armie Hammer, Call Me By Your Name and Nazanin Boniadi, "Homeland") is forced to make unthinkable sacrifices to protect their newborn child.
News & Interviews for Hotel Mumbai
Critic Reviews for Hotel Mumbai
Audience Reviews for Hotel Mumbai
½
Very thrilling and very bloody. Amazing story well directed and with some fine acting led by Dev Patel.(4-7-19)
THE TOWERING INFERNAL - My Review of HOTEL MUMBAI (3 Stars) The disaster movies of the 70s worked as fantasy spectacle, allowing us to face certain fears within the comfort of a sometimes soapy, fictional story. One after the other, THE POSEIDON ADVENTURE, THE TOWERING INFERNO, and EARTHQUAKE, all featured all-star casts, multiple storylines, and big action set pieces. Somewhere around ROLLERCOASTER, the appetite for such fare seemed to fade, and the attempts at a revival didnâ(TM)t quite set the world on fire (Yes, Iâ(TM)m looking at you DAY AFTER TOMORROW and SAN ANDREAS). Post 9/11, a different type of disaster film resurfaced, starting with UNITED 93, which took great pains to bring all of the above to a docu-style narrative. Its director, Paul Greengrass, tried it again with last yearâ(TM)s 22 JULY, and as viewers, we come to these stories with a completely different set of eyes. Australian director Anthony Maras, in his feature debut, along with his co-writer John Collee, bring a similar Greengrass style to the telling of the 2008 series of terrorist attacks on the city of Mumbai. With dozens of characters and a never-ending series of set pieces, the film succeeds as a blistering pile-up of suspenseful action sequences filled with never-ending dread and violence. Every gunshot, every grenade explosion has impact, and the script even manages to tell the story of the class differences and the unity required to survive the horrors. Why, then, did I feel so terrible when it was over? Precisely for the same reason I wished I had never watched UNITED 93. Iâ(TM)m convinced some things remain better off left unseen. The film opens from the perspectives of the terrorists themselves as they take orders from their unseen commander known as The Bull. Their dinghies wash ashore in Mumbai and they instantly get to work by first opening fire at the main train station. Soon, we move on to the Taj, a 5 Star hotel, where we watch the staff preparing for the arrival of some elite guests. We meet Arjun (Dev Patel) a waiter who has a pregnant wife and child, and heâ(TM)s late to work. His boss, the head chef (Anupam Kher) suffers no fools as he puts his staff through strict paces. The bathtub water must be the exact right temperature for David (Armie Hammer), who travels with his wealthy wife, nanny, and baby. Same goes for a Russian operative named Vasili (Jason Isaacs), who acts like an ogre and grossly sets up a party with prostitutes up in his suite. The staff, the guests, and the families at home all get their moments, and Maras does a fine job of allowing our sympathies to shift. Just because someone is a victim does not make them a saint, but this film tells us that everyone is still worth saving. The premise of this film seems to hinge on that fact. Kherâ(TM)s character insists his employees treat the hotel guests as if they were Gods. When the going gets rough, all must confront this principle and decide if they want to stay and help save the guests. Itâ(TM)s a worthwhile cultural dilemma to explore, but letâ(TM)s face it, this film spends most of its time in a sea of explosions. The incessant gunfire coupled with a zig-zagging storyline resembles THE TOWERING INFERNO at times. Will Armie Hammer elude the shooters as he tries to get back to his room to save his baby? Will Dev Patel be able to run around in his borrowed and ill-fitting shoes? Will a racist guest be able to serve herself a plate of fruit without offending an entire nation of people? Occasionally, I felt that the filmmakers chose to focus their attention on the hotel siege as opposed to the many other locations they attacked because it would allow for some Western (i.e. White) names in the cast. While this may have been a commercial consideration, this filmmakers do a good job in presenting the story from diverse perspectives. An early attack on a cafe, centering around a pair of Australian tourists carries such an intense shock and uses it to heighten the dread when the terrorists find a truly unnerving way of gaining access to the hotel. When these terrorists take over, they find diabolical ways to manipulate everyone, and they kill people without hesitation. The film upends some tropes such as the white savior who will win in the end. Thereâ(TM)s also some unexpected humor, such as the scene where a pair of terrorists encounter a room service cart, but by and large, this is a rough film to watch. Itâ(TM)s expertly made, truly nail-biting, and relentless. It seamlessly blends actual footage into the mix and made me care more than I thought I would. HOTEL MUMBAI forces the viewer to consider what they would do if they had ever found themselves trapped in similar circumstances. It does a good job of showing the disparity between the rich hotel guests and the employees, and even provides some insight into the mindset of the terrorists. In this scary world, perhaps all of this would seem edifying, but, by and large, a terrible thing happened in Mumbai which was out of everyoneâ(TM)s control. I hope nobody ever has to experience what these people went through, but some of course will. I donâ(TM)t feel better for having seen this film. I feel numb. Decide for yourself if you want to feel the same.
Glenn Gaylord
Super Reviewer
Hotel Mumbai Quotes
There are no approved quotes yet for this movie.