Hotel Rwanda
(2004)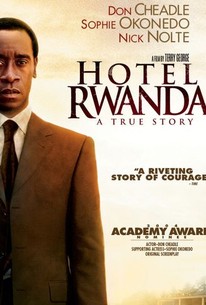 Movie Info
Ten years ago some of the worst atrocities in the history of mankind took place in the country of Rwanda--and in an era of high-speed communication and round the clock news, the events went almost unnoticed by the rest of the world. In only three months, one million people were brutally murdered. In the face of these unspeakable actions, inspired by his love for his family, an ordinary man summons extraordinary courage to save the lives of over a thousand helpless refugees, by granting them shelter in the hotel he manages.
News & Interviews for Hotel Rwanda
Critic Reviews for Hotel Rwanda
Audience Reviews for Hotel Rwanda
The film is powerful and moving, but that's got more to do with knowing the horrible events actually took place -- not because of anything special about the film making (other than possibly Cheadle's understated Paul). Cheadle's acting was exceptional, and everyone else was good with the notable exception of Nolte who played his role as if he were a caricature of a gruff-but-lovable military careerist. It's worth seeing to remind yourself that this genocide really happened and the rest of the world really didn't care that much.
Christian C
Super Reviewer
½
During the early nineties there was an infinite increase in genocide, very prevalent in Africa. The killing in Rwanda was based on a class system that had been in place for decades, and now that the power structure was switched, the tribal system emerged, lending to a million deaths in one year at the hands of a vast military. This film tells the condensed story of a hotel manager named Paul Rusesabagina, who lived the life of a middle class suburbanite while surrounded by soldiers and misplaced nationalism. Prompted by the assassination of Rwanda's president and the expedition of the UN Peacekeepers, Rusesabagina takes in 1,200 refugees and saves all their lives in the process. Rusesabagina starts out as a tolerant and possibly naive citizen, unbelieving of the errant violence of soldiers, or the collapse of his government. With his vast knowledge and Belgian education he outwits, cons, and pleads with generals and soldiers alike to spare his "guests" lives, all while saying it was in keeping with his occupation at the hotel. Pretending they are part of the luxurious clientele, and using his knowledge of the atrocities around his country, he often keeps his offenders at bay, takes in orphans, and saves his family. This has been compared to "Schindler's List" in terms of a savior taking in people to save them from certain death. That comparison seems apt since Rusesabagina starts the film as an affluent and privileged individual with a skewed, or incorrect, view of his surroundings, much like Schindler starting the film as a Nazi. Rusesabagina immediately softens to the refugees' plights and bribes everyone he can in order to save their lives. This film has also been criticized for not covering the entire genocide and instead focuses on a small contingent of people. Comparing again to "Schindler's List," it's evident that that film did cover more, including camps, the train, and the conditions that Jews lived under, and in this film we very often do not see violence, bloodshed, or hateful intolerance. For what the film covers, I think it appropriately shows the devastation done to its citizens, and though not as effective when it comes to bluntly showing death at every turn, there are bodies in the streets, corpses of children left and piled in unceremonious mounds. The film also appropriately covers the lack of intervention from the UN or the US during this time of tumult, and how horrific that truth was when it dawned on the survivors in the hotel. That especially lent a lot of realism to the story, and downplayed the heroism of outsiders, since they weren't there for the bulk of the travesty anyway. That in itself speaks about the genocide more than showing blood spurts from bullet wounds. Overall this film is still disturbing and moving as it shows the sacrifices and travesty of these horrific crimes against humanity.
Spencer S.
Super Reviewer
½
Like The Killing Fields, Salvador and Schindler's List before it, Hotel Rwanda catalogues yet another example of the human race's remarkable talent for inhumanity. Don Cheadle gives a career best performance as a hotel manager who uses all his intelligence and guile to help save over 1200 refugees from the genocidal rampage of Hutu militants. The rest of the cast also put in the kind of committed performances actors give when they truly believe that a story must be told and although it is a little manipulative, it's never heavy handed or clumsy. I must admit, I didn't realise that the cultural segregation of the Tutsis and the Hutus was just an arbitrary division created by long gone occupying colonialism and the film gives a welcome lesson in the cause and nature of the conflict. It also serves as yet another reminder that the opulent west is very good at making worthy popular entertainment that documents such atrocities, even shedding a tear when reminded of their existence. But we never seem to do a damn thing when it actually counts.
Hotel Rwanda Quotes
| | |
| --- | --- |
| Paul Rusesabagina: | There's always room. |
| | |
| --- | --- |
| Colonel Oliver: | Theyve murdered my men. I lost 10 Belgian soldiers |
| Colonel Oliver: | They have murdered my men. I lost 10 Belgian soldiers. |
| | |
| --- | --- |
| Jack: | They could be twins |
| Jack: | They could be twins. |