Hotel Transylvania
(2012)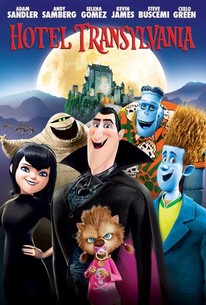 TOMATOMETER
AUDIENCE SCORE
Critic Consensus: Hotel Transylvania's buoyant, giddy tone may please children, but it might be a little too loud and thinly-scripted for older audiences.
Hotel Transylvania Videos
Hotel Transylvania Photos
Movie Info
Welcome to the Hotel Transylvania, Dracula's (Adam Sandler) lavish five-stake resort, where monsters and their families can live it up, free to be the monsters they are without humans to bother them. On one special weekend, Dracula has invited some of the world's most famous monsters--Frankenstein and his bride, the Mummy, the Invisible Man, a family of werewolves, and more--to celebrate his daughter Mavis's 118th birthday. For Drac, catering to all of these legendary monsters is no problem--but his world could come crashing down when one ordinary guy stumbles on the hotel and takes a shine to Mavis. -- (C) Sony
Critic Reviews for Hotel Transylvania
Audience Reviews for Hotel Transylvania
This year is really a good year for spooky Addams Family style halloween goth freaks like myself. So far we've had 'ParaNorman' 'Frankenweenie' and now this Adam Sandler animated vehicle. Yes that's right...Adam 'I'm not funny anymore' Sandler. About 10 minutes into this film you can tell its clearly been made for kids. Nothing wrong with that of course but this isn't Toy Story-smart with little winks for the older folk, its way more tuned for the younglings. This is very evident with silly jokes, huge prat falls and a very loud in your face approach much like many kiddie cartoons, dare I say childish to the max. Yes childish but did I expect more? well maybe yes, an Adam Sandler fronted film? I did think it might be a little more risky in places, or even a tad scary judging by the concept. The best thing about the film in many sequences is the dialog from the brilliant voice cast line up. This is what the adults will enjoy, especially with the dry wit of Spade and Buscemi who give Werewolf and The Invisible Man some cracking moments of verbal humour. Naturally Kevin James is in here too, can't have an Adam Sandler film without his tubby sidekick it seems. There was a time when it was Rob Schneider, not anymore. The animation was split right down the middle for me to be honest, at times some sequences looked fantastic, where as others looked rather uninspired. The flashback sequences for Dracula were especially lovely with stunning colours, and the best animated motion capture was again easily Dracula. Some gorgeous looking work as we see Drac glide across the hallways, flap and twirl is cape, slink amongst the shadows and sail through the air...its all in the cape work. Other characters are well designed too, I like the blue collar look of Werewolf, the obvious simplicity of The Invisible Man, the gigantic foot of I presume a Yeti and Mummy, who looked a lot like Oogie Boogie from 'The Nightmare Before Christmas'. There are an impressive range of monsters shown throughout the film from standard skeletons to a Pumpkin King-esque character. The main characters are the best looking naturally, where as the rest don't seem quite as well crafted. I must just add, is it wrong that I found the young female character of Mavis (Drac's daughter) kinda hot? I mean look at it from my point of view, I'm into the whole goth look and vibe. So for me the sight of an attractive slim pale female with black lips, dark eye shadow, black fingernails and raven black hair, wearing a surprisingly sexy tight black number complete with arm stockings was really quite sexy. It was like watching a young animated Winona Ryder...rawr!! But I digress, the film is a simple love tale between Mavis and a random human lad who turns up at the hotel, nothing more. Its very sweet, very charming and will thrill the kids. I did enjoy it mainly for the monster mash aspect and of course the kooky vampire/haunted mansion side of it (if you haven't already guessed). The animation in general was a slight let down for me (some characters aside) as I did expect something a bit more original, quirky or diverse from director Geddy Tartakovsky. It all looks good but too generic for me, nothing trailblazing like his Star Wars work. Also I was hoping for something a little more adult orientated in places with the monsters but alas. Jokes are a bit forced, hated the pop songs included and the horrendous ending almost ruins the entire film Jesus! but it still just about made me smile. Not as unique, amusing or moving as 'ParaNorman', so far that is the front runner for fun halloween flicks. Watch out for Geddy's unique and much better hand drawn animation in the end credits, maybe they should have done the whole film this way?
Phil Hubbs
Super Reviewer
Hotel Transylvania was a cute cartoon. I enjoyed all of the different characters. It had some laughs. Of course Adam brought in a lot of his friends to do the voices for the characters. I didn't mind it so much this time since I didn't have to see them. My nieces and nephews really enjoyed it and said that the movie was really good and is now one of their favorites. So I guess all that matters is that the kids love it since it is, in the end, intended for the children.
♥˩ƳИИ ƜѲѲƉƧ♥
Super Reviewer
The first half was lame, the last half seemed to pick up. But, it still wasn't as good as I had expected it to be. Ok, just not great...
Cynthia S.
Super Reviewer
Hotel Transylvania Quotes
| | |
| --- | --- |
| Jonathan: | Check it out i'm a frakenhomie! |
| | |
| --- | --- |
| Dracula: | what my hand in a stan shoes? |
| Dracula: | What my hand in a stan shoes? |
| Jonathan: | what japan eating lamb stew? |
| Jonathan: | What japan eating lamb stew? |
| | |
| --- | --- |
| Wayne: | What? Now there's no sheep in the road. Let's go. |
| Murray: | That was pretty sick, man. |
| Wayne: | You eat lamb chops, it's the same thing. |
| | |
| --- | --- |
| Dracula: | Human blood is so fatty and you never know where its been. |