The Hottest State
(2007)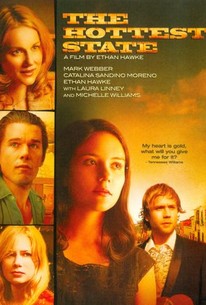 TOMATOMETER
AUDIENCE SCORE
Critic Consensus: Despite strong performances and a unique style, The Hottest State is too self-conscious and pretentious to truly succeed.
Movie Info
Soon after relocating from Texas to New York in a bid to make the big time, a 21-year-old actor enters into a turbulent relationship with a struggling singer/songwriter in writer/director Ethan Hawke's screen adaptation of his own debut novel. William (Mark Webber) is an aspiring actor with dreams of making it big. Upon arriving in New York City, William soon enters into a tenuous romance with Sarah (Catalina Sandino Moreno), a talented musician with a winning voice and keen songwriting skills. Love is a fickle thing, though, and in the thriving world of young and talented artists, it isn't always enough to make a relationship last.
News & Interviews for The Hottest State
Critic Reviews for The Hottest State
Audience Reviews for The Hottest State
½
The pacing is quite fractured and the dialogue doesn't always work perfectly, but I personally enjoyed this film to a great extent. Overall, it's a very well-written piece guided by subtle direction from Hawke and excellent performances from the entire cast. Sad, engaging and driven by a sense of rare honesty.
½
"Don't you find it odd that when you're a kid everyone in the whole world tells you to follow your dreams, and when you're older they act all offended if you even try?"
The Hottest State is Ethan Hawke all over: he directs it, has written the screenplay, wrote the book it is based on and has a small part. The story also feels very much in his ideals; bohemian, 'beat', incredibly romantic, naïve. It's probably an acquired taste (obviously those who dislike Hawke aren't going to have a good time) but it's one I fell for.
Excellently adapted from Hawke's debut novel, it tells the story of how William, shortly before turning 21, quickly falls desperately, hopelessly in love with Sara - an aspiring singer he meets at a bar. The story tells of their short, powerful relationship (entirely from William's perspective but not always from his bias) - as William says in voice-over, his heart would be broken by the time he turns 21.
The slow pace makes the most of some truly beautiful photography and is very well shot - often in gorgeous sunlight - with much talking between the two leads about their romance and their future (think very much Before Sunrise/Sunset). The film would fall apart without good lead performances but luckily the casting is spot on: Mark Webber is stunning as William (the New York Post compared him to a young Gary Oldman or Marlon Brando) and Catalina Sandino Moreno gets it perfect as Sara (we can see why William falls in love with her whilst also understanding that her peculiarities may just hide a boring personality, not necessarily an interesting one). Michelle Williams brings personality to a tiny part and Laura Linney and Hawke himself are both wonderful as William's parents.
A very romantic romance, made from the heart with care and attention.
"I didn't break your heart. Your heart was broken a long time before you met me."
Daniel Parsons
Super Reviewer
Self-absorbed navel-gazing session at least has a tolerable soundtrack.
William Goss
Super Reviewer
The Hottest State Quotes
There are no approved quotes yet for this movie.