HottieBoombaLottie
(2011)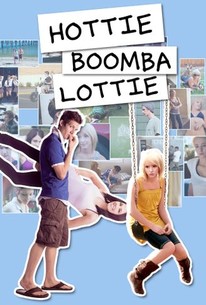 AUDIENCE SCORE
Critic Consensus: No consensus yet.
Movie Info
Actor-turned-filmmaker Seth Packard writes, produces, edits, directs, and stars in this geek-chic comedy concerning a cheerfully clueless teen named Ethan who channels his every ambition into an obsession with a beautiful brunette named Madison Sweet while fending off the advances of his over-affectionate cousin. From where Seth stands, it seems like his overbearing mother and older brother are hell bent on sabotaging his entire life. The only person who seems to understand him is Madison - not the real Madison, but the life-sized cutout of her that's affixed to his closet door. When the situation in Utah becomes unbearable, Seth heads out to California to spend the summer with his cousins. An already complicated situation spirals hopelessly out of control, however, when it becomes unmistakably apparent that Seth's cousin Cleo (Lauren McKnight) wants to be more than just family.
Critic Reviews for HottieBoombaLottie
There are no critic reviews yet for HottieBoombaLottie. Keep checking Rotten Tomatoes for updates!
Audience Reviews for HottieBoombaLottie
½
You know, I've never seen Napoelon Dynamite in its entirety. That might surprise a lot of people. Much like a lot of other films, I've seen bits and pieces of it here and there, but never once in just one sitting. The point is that Napoleon Dynamite is just one of those films that you either love or hate. There's no real, general consensus on the film (unless you visit NP's page on RottenTomatoes). You either loved it or you hated it. And, as I mentioned, while I haven't seen the film, I can also see how it would be sort of a niche movie for a very specific crowd. I can see how that very specific crowd would love the film, but I'm aware of the fact that it's got a style that's not particularly friendly if you find indie quirk insufferable, which is where most complaints were directed at. Having said all of that, you can sort of see how Napoleon Dynamite influenced this movie. I was gonna say that maybe it had a hint of Wes Anderson, but that would just be complete bullshit. This movie has as much in common with a Wes Anderson flick as I do with Dwayne 'The Rock' Johnson. The point that I'm trying to make is that the film wears its Napoleon Dynamite influence on its sleeves. It doesn't even try to pretend otherwise. It tries to be that same kind of cringe-y, awkward comedy that NP was. And, honestly, it's not really my type of thing. Not saying that I can't enjoy this type of humor, but it just doesn't appeal to me. It appeals to other people and that's more than fine. Everyone deserves to have films that are made specifically tailored to what tickles their funny bone. With that said, this isn't a bad movie at all. I would say that it's average more than anything else. Seth Packard clearly has some talent as a writer and director, that much is obvious. Anyone who tells you otherwise either really though this movie sucked, which I can see how someone would come to hate this, or just completely delusional. There's movies that I've seen, that haven't been any good, where I can see some talent from the writer/director in certain scenes. But I can't really find it in my heart to call this movie funny. At least funny to me. The fact of the matter is that this film has found a relatively positive audience reaction. For me, it just didn't work. It certainly has its moments and I liked the film's tone. But, while this did have some laughs, they weren't ever truly consistent for me to feel that this was a good comedy. I think the problem the film has, more than anything else, is that it just seems like it's trying too hard. Realistically speaking, however, that's better than the alternative, which is not giving a shit and completely phoning it in (see: Transformers franchise). What I mean by that it's just trying way too hard to fit into that indie quirk niche that it forgets that it should probably tell a better story with more consistent comedy. There are times when the film shows flashes of actually 'getting it', as it were, but those are intermittent for sure. I just get the feeling that the quirk was the primary focus and then the story was written around that instead of the other way around. Maybe I'm wrong and maybe both were equally important to Mr. Packard in writing his movie, but that's just the feeling I get. It's trying way too hard to fit into one particular genre instead of just making sure that it's the best possible movie you can make at the time. Again, and I can't say this enough, this is not a bad movie in the slightest. I've seen so many more worse movies than this. I reviewed one just one week ago to be exact (The Disappointments Room). But I think that it was way too focused on trying to fit into that style that it forgot to accompany that style with some actual substance. And, really, a 73-minute long film about a weird guy trying to win over his brother's girlfriend isn't gonna have much in the way of substance. But I felt that there should have been some sort of an attempt. Maybe I'm asking too much, I can forgive some of the film's technical deficiencies, they weren't working with a super big budget. Maybe I should forgive some of the script's deficiencies as well. That one, however, I have a bit of a problem with. Let's say that Packard wrote this script on his own time and money, which I'm assuming he did, then there should be no problem with coming up with a better script that's more consistent. But that's just me. I digress, the film has its funny moments and the cast is more than solid, so that makes the movie watchable. That's about it, I don't really have anything else to say. It's an average movie that just doesn't falls short of being good.
Jesse Ortega
Super Reviewer
HottieBoombaLottie Quotes
There are no approved quotes yet for this movie.