Hour of the Wolf (Vargtimmen)
(1968)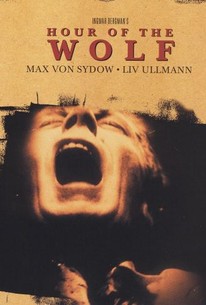 TOMATOMETER
AUDIENCE SCORE
Critic Consensus: Ingmar Bergman makes a successful foray into horror with Hour of the Wolf, infusing the demons that spring from creativity with his trademark psychological curiosity.
Hour of the Wolf (Vargtimmen) Photos
Movie Info
The Hour of the Wolf (original Swedish title: Vargtimmen) is Ingmar Bergman's spin on the demons that plague his fellow creative artists. Max von Sydow plays a painter who, while spending a summer in seclusion with his pregnant wife Liv Ullmann, is visited by bizarre and disturbing visions. Before long, Ullmann is also experiencing her husband's hallucinations; one of these, an old, faceless woman, advises Ullmann to read Von Sydow's diary. Doing so, Ullmann discovers that her husband has been cheating on her with Ingrid Thulin. In the subsequent domestic squabble, Von Sydow shoots and wounds his wife. The artist's punishment for this behavior is to have his lover, now dead, spring back to life and humiliate him in full view of Ullmann. Hour of the Wolf has something to say about the dangers of artists becoming too self-centered and self-involved; one hopes that most artists are not as thoroughly punished (or punishable) as Max Von Sydow.
Critic Reviews for Hour of the Wolf (Vargtimmen)
Audience Reviews for Hour of the Wolf (Vargtimmen)
gorgeous to look at and creepy as hell. max von sydow's dreams invade real life and not only his own
Stella Dallas
Super Reviewer
as with many bergman films, i toiled for some time to find a worthwhile and redeemable interpretation, but thankfully, this one gained a slight amount of clarity by the end. not in line with bergman's more masterful works, but not as bad as his overdone floundering films either. some of the dialogue was interesting and max von sydow was convincing as usual.
Hour of the Wolf is the only horror film Ingmar Bergman ever made. And it's amazing. Clearly influenced here by German Expressionism, Bergman and cinematographer Sven Nykvist use exaggerated and stylized light and shadow and deliberately disorienting camera angles to full affect. Bergman's penchant for intense, unblinking close-ups compliments this style of shooting well, and adds a sense of the surreal to the already bizarre happenings. The performances of the castle apparitions -- by actors such as Erland Josephson, Bertil Anderberg, and Ingrid Thulin -- certainly have a definite expressionist, stylized feel to them as well. This expressionist sensibility also calls for the dramatic externalization of the internal; this fits the subject matter of the film in two ways. First and most obvious, the expression of Johan's inner turmoil breaks the psychological barriers between self and other and between reality and unreality (and later, between life and death) necessary for Bergman to create true horror. Second, and a bit less obvious on the surface, is Bergman's own expression here of the internal realities of his own life. It may seem a bit too on-the-nose, but is there any doubt that Von Sydow's Johan is a stand-in for the writer/director himself? The character is a troubled, brilliant artist whose creative visions and past both interfere with his relationship with his pregnant wife. It is certainly no coincidence that the wife in question is played by Liv Ullmann, who at the time was herself pregnant with Bergman's child; the demands of Bergman's art and personality had threatened for a while to tear the two of them apart. There is clearly a dark side to the creative impulse, and its obsessions can impair life in the real world, whether for fictitious artist Johan Borg or real-life Ingmar Bergman. Perhaps that's why this film strikes such a chord: it feels personal, while at the same time fiercely artistic. A must-see for psychological horror fans.
Jonathan Hutchings
Super Reviewer
Hour of the Wolf (Vargtimmen) Quotes
There are no approved quotes yet for this movie.