The Hours
(2002)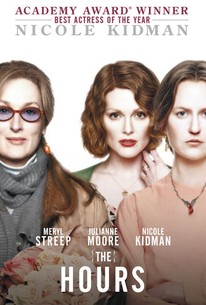 Movie Info
Spanning across various time periods in the 20th Century, a drama which revolves around three very different women: two of whom have been profoundly affected by the works of Virginia Woolf; the other woman is Woolf, herself. All three are battling with issues of freedom, responsibility and identity. As the story unfolds, they are negotiating their way through different depressive states: Virginia Woolf is struggling to write her novel "Mrs. Dalloway" in 1923, as she recovers from depression; Laura Brown is a depressed and pregnant L.A. housewife who reads Woolf's novel in 1949, as she plans her husband's birthday party; and, the exasperated Clarissa Vaughn is a book editor in modern-day New York, who is planning a farewell party for her AIDS-inflicted former lover, Richard--a famous author who had nicknamed her Mrs. Dalloway.
Critic Reviews for The Hours
Audience Reviews for The Hours
½
Really fine acting from all but how could the academy justify giving Kidman a Best Actress Oscar for her contribution here. At best she's supporting and both Streep and Moore are better than she is.
½
They called the book "The Hours" by Michael Cunningham unfilmable, but taking a lot of risks adapter David Hare found this to be easily filmed, almost tailor made. Director Stephen Daldry must have agreed, because what we see on screen is a fluid, memorable, and overwhelmingly circular thread. Three stories, in three time periods, are linked by the book "Mrs. Dalloway" which is about a vapid woman planning a party, which she is trying to use to curtail her own insecurities and depression. Three women are represented in this film, most memorable being Nicole Kidman as author Virginia Woolf, who actually wrote the book. Kidman won Best Actress at the 2003 Academy Awards for her portrayal, and what an amazing one at that. Woolf comes off as so bleak, spirited, and blighted by her time in the country, but it's of course much more about her depression and the lengths that her overprotective husband goes through to keep her alive. In the fifties, housewife Laura Brown (Moore) scuttles through life, trying to please her family, and in the present Clarissa tries to plan a gathering for a friend who is on his last legs. Every story is linked in obvious ways, whether it is that they're planning a party to hide their shame, copious guilt, or ultimatums, the difficulties of their sexuality, or the chain that binds them. It's also good to note that these three women denote different stages in a strange chain as well. While one is the creator of Mrs. Dalloway, another is a seminal example of Mrs. Dalloway, and yet another story deals with the aftermath of Mrs. Dalloway's actions. It all shows the plight of women, trapped in their little bubbles, and the ways they claw their way back to life, lest it kill them in the process. All the performances are very strong and memorable, Kidman's being the shortest and yet the most interesting. This film boasts a very impressive and large cast, and I was happy to see names such as Miranda Richardson, John C. Reilly, and Toni Collette in the credits. The only section that I felt wasn't particularly interesting was Laura Brown's. Hers is about her life as a housewife in the fifties, and though I understand she is shy and reserved, she comes off as strangely maddened and yet we see none of what it does to her. She runs from her problems, but we don't get to see the impact or any agency until the end. During the scenes she comes off as ineffectual and limp. While this is impactful by the end, it just dragged the longer Moore was onscreen. There is intrinsic value to this film, and it does floor me to see the connections between these three women onscreen when everything possible is said and done.
Spencer S.
Super Reviewer
½
Adapted from a seemingly 'unfilmable' novel, this this the story of three women from three different time periods who are all connected in some way to Virginia's Woolf's novel Mrs. Dalloway. Those ladies are: Virginia Woolfe herself, working on the novel in 1923, 1950s California housewife Laura Brown who is enamored by the book, and Clarissa Vaughn- a New Yorker planning a party in 2001, who is basically the embodiment of the novel's title character. What I liked about the film is the structure. Aside from the opening and closing scenes which bookend things, the movie takes place in a single day in each of the time periods, alternating back and forth between them. Also, there's a lot of parallel action and matching cutting going on to link all the stories with one another, one example being each lady waking up at roughly around the same time. Thematically, this film is all about depression, loss, suicide, and some LGBT leanings. It's not an easy film to watch, and it sure isn't uplifting, but it is fairly compelling. That said, the film is rather slow, and, while it is interesting, it's didn't grab me as much as it probably should have, or as much as I thought it might. I wasn't totally bored, but I wasn't mesmerized, either. We do get a strong cast here, populated by the likes of Nicole Kidman, Julianne Moore, Meryl Streep, Ed Harris, Claire Danes, Jeff Daniels, John C. Reilly, Toni Collette, and Allison Janney among others, and, as you'd expect, they deliver when it comes to the acting. Kidman was the only one who actually walked away with an award, and she is really good as Woolf, but I personally really liked Moore. Of the men, Reilly was probably my favorite, although Jeff Daniels fares pretty well, too. The film is shot fairly decently, and the score by Phillip Glass, despite being characteristically repetitive, is quite good and very fitting. In the end, the film is overrated and kind of a drag, but the set up is intriguing, and the performances are what ultimately save it, so, even though it will depress the dickens out of you, consider giving it a watch.
Chris Weber
Super Reviewer
The Hours Quotes
| | |
| --- | --- |
| Virginia Woolf: | I don't think two people could have been happier than we have been. |
| | |
| --- | --- |
| Virginia Woolf: | Someone has to die in order that the rest of us should value life more. It's contrast. |
| | |
| --- | --- |
| Virginia Woolf: | Mrs. Dalloway said she'd buy the flowers herself. |
| Laura Brown: | (Reading aloud) Mrs. Dalloway said she'd buy the flowers herself. |
| Laura Brown: | [reading aloud] Mrs. Dalloway said she'd buy the flowers herself. |
| Clarissa Vaughn: | (Shouting) Sally, I think I'll buy the flowers myself! |
| Clarissa Vaughn: | [shouting] Sally, I think I'll buy the flowers myself! |
| | |
| --- | --- |
| Clarissa Vaughn: | I remember one morning getting up at dawn, there was such a sense of possibility. You know, that feeling? And I remember thinking to myself: So, this is the beginning of happiness. This is where it starts. And of course there will always be more. It never occurred to me it wasn't the beginning. It was happiness. It was the moment. Right then. |