House II: The Second Story
(1987)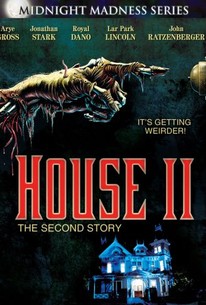 House II: The Second Story Photos
Movie Info
The evil dwelling from the first House film becomes the residence of a young couple who move in, only to battle the Aztec ghosts who already reside there.
Critic Reviews for House II: The Second Story
Audience Reviews for House II: The Second Story
½
Like the first film this remains inside the haunted house theme with two young males battling all manner of ghouls and monsters but heads down the horror comedy route. If you think along the lines of 'Army of Darkness' then you get an idea what I mean. The only difference here is its not an adult horror comedy but much lighter. But contrary to what you might think this film is actually better than the first in my opinion. The old mansion appears to be an ancient Mayan temple with gateways to other dimensions that is somehow protected or kept in line by a crystal skull. Said skull is supposedly buried with one of the boys great great grandfather sooooo off they go to dig him up. Long story short 'Gramps' the zombie befriends them and helps them defend the skull from the forces of evil, oh and they gotta save the girlfriend who gets kidnapped of course. It all sounds like a kids cartoon but trust me its really quite good fun. The boys end up going into some prehistoric world with dinosaurs to get the skull after its pinched, they battle Mayan tribesmen, save a Mayan Princess, adopt a baby pterodactyl and a weird caterpillar dog thing plus there's the evil cowboy zombie gunslinger also after the skull. It all sounds surreal but like other 80's fluff it looks great with some nice hokey effects that make you smile. There is also some pretty good makeup and prosthetics again with 'Gramps' the zombie and 'Slim Razor' the zombie plus some great kooky sets that look like something out of the 'Addams Family' TV show. I also really liked the cast in this too. Johnathan Stark is great as the lippy wise ass best friend of Arye Gross. Both guys really click together and make a formidable 80's duo just like Makepeace and Rusler in 'Vamp'. Stark actually reminds me of an early Jim Carrey with his haircut and looks, Arye is a regular face for this era as was Bill Maher. Kudos to John Ratzenberger who has easily one of the best parts I've seen for some time, he is the 'Electrician and Adventurer', always ready to battle alternate dimensions at the drop of a hat. I loved the way he Coolly remarks that he deals with this kind of stuff all the time and always ready with his sword (kept hidden in his toolbox). Yep its utterly off the wall but its a great light-hearted horror comedy with some really good 'Indy' type adventure with monsters and zombies...albeit in a very cheesy tacky way.
Phil Hubbs
Super Reviewer
½
Steve Miner made a fun little horror film in 1986 by the name of House. A year later, House II: The Second Story would appear. Like the first film, it has a tongue in cheek approach to the material, and it doesn't take itself seriously. Unfortunately, this film is inferior to the first and it lacks the charm that the original delivered. Nonetheless, this is a decent affair, but is never anything remarkable either. The scares are mild and it plays out like a so-so horror comedy. The film could have been better, but the first one wasn't excellent either. Despite the film's flaws, it is entertaining for what it is, and fans of the first should enjoy this one as well. Acting wise, Jonathan Stark gives a good performance here, but he we was much better in Fright Night. The film had potential of being a great sequel, but in the end it's a decent one at best. Towards the middle of the film, it does get a bit silly and it becomes a bit flat in terms of effective horror comedy. Overall it's mildly amusing film that's worth seeing if you enjoy mindless movies. Director Ethan Wiley's direction leaves a lot to be desired, and despite the flaws, he manages to make something watchable. However it is not as fun as the first House, and this one could have been much better too. The script lacks at times, and it does feel rushed, but this a film to watch if you have nothing else better to do. The actors do what they can with the lacking material, they make it amusing for the viewer looking for a decent horror comedy to watch.
½
The sequels to House just seem to go further and further from the from the first movie, and this was the first big step away. This movie is a ridiculous, somewhat funny, western infused, sci-fi adventure movie that takes place in a haunted house. It wasn't at all what I expected, but not in a good way. I would not recommend this silly movie.
House II: The Second Story Quotes
| | |
| --- | --- |
| Jesse McLaughlin: | Gramps: I ain't gonna die if it's the last thing. |
| Gramps: | I ain't gonna die if it's the last thing. |
| | |
| --- | --- |
| John: | Who are you supposed to be, Bozo the Clown? |
| Charlie: | No, Bozo the Death Machine... |
| Charlie: | No, Bozo the Death Machine. |