House By the River
(1950)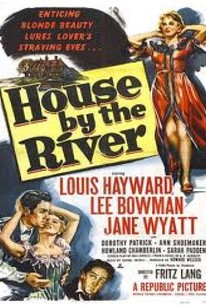 Movie Info
Fritz Lang was the guiding hand of this laudable Republic Studios melodrama. Louis Hayward stars as a wealthy wastrel who tries to seduce the family maid. She resists, and he kills her. Long jealous of his brother Lee Bowman, Hayward does his best to pin the blame for the murder on his sibling. Also affected by Hayward's arrogant dementia is his long-suffering wife Jane Wyatt. Originally, director Lang had proposed that the unfortunate maid be a black woman, and that the killing take place accidentally during some harmless flirtation on Hayward's part. He was vetoed by the timorous Republic staff (even the slightest hint of miscegenation was taboo in 1950), but House by the River turned out pretty well all the same.
Critic Reviews for House By the River
Audience Reviews for House By the River
"House by the River" is another one of those movies that never answers the oh-so-important question of 'Why should we care?' It's about as boring as you can imagine, underacted and sluggishly scripted. Fritz Lang is a director that I tend to rank above others from his era, but here he just misses the mark.
Stephen Earnest
Super Reviewer
I really enjoyed this melodramatic gothic mystery tale. There aren't many big stars in it, but everyone does a good job. It's exciting and has romance, a lot of drama, and even some laughs. This is a very interesting movie, more like the 40s than 50s, actually. I recommend it.
½
little seen and low budget gothic thriller with louis hayward in a standout performance as a would be novelist and all around sleaze who accidentally kills his maid while making advances to her. instead of reporting it, he talks his reluctant brother into helping him dump the body in the river. big mistake. the film is very entertaining but could've been stronger if lang had been allowed to make the servant black i think. cinematography is grand with long shots down dark corridors and spooky scenes of the river at night. well worth a look
Stella Dallas
Super Reviewer
House By the River Quotes
There are no approved quotes yet for this movie.