House of 1000 Corpses
(2003)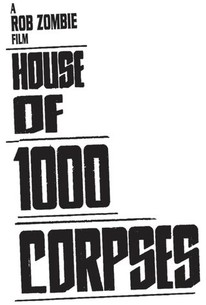 House of 1000 Corpses Photos
Movie Info
Taking his cue from such 1970s horror classics as The Texas Chainsaw Massacre (1974) and The Hills Have Eyes (1977), animated rocker Rob Zombie goes celluloid with the throwback shocker House of 1000 Corpses. Running low on gas as they travel the highways of America in search of the ultimate roadside attraction, a group of teens pull into Captain Spaulding's (Sid Haig) museum of oddities (which also offers fried chicken and gasoline) only to become obsessed with uncovering the mystery of a legendary local maniac known only as Dr. Satan. When an attractive and mysterious hitchhiker subsequently offers to give the thrill seekers a personal tour of Dr. Satan's old stabbing grounds, a breakdown forces them to take refuge with a group of menacing oddballs as a fearsome storm rages outside. As the evening progresses and the backwoods hosts' Halloween festivities become ever more threatening, the teens soon realize that the legend of Dr. Satan may hold a bit more contemporary weight than any of them had previously thought. ~ Jason Buchanan, Rovi
News & Interviews for House of 1000 Corpses
Critic Reviews for House of 1000 Corpses
Audience Reviews for House of 1000 Corpses
An unpleasant experience akin to being raped, or, in other words, a stupid, unscary and repellent gore fest that begins very well but then tries too hard to be "rock 'n' roll" and full of style with an irritating large amount of references and awful cutaway scenes inserted everywhere.
Carlos Magalhães
Super Reviewer
½
As an auteur Rob Zombie has established himself as a macabre force to be reckoned with; a wild card in the horror genre whose ambiguous morals challenge the codes and conventions of modern Hollywood cinema. His debut feature "House of 1000 Corpses" encapsulates perfectly his positioning as a maverick and opens up a door into a depraved and brutal world. Set in the 70s and based on the exploitation films of the same time, the story follows four travelling writers Bill Hudley (Rainn Wilson), Stucky (Michael J. Pollard), Denise and Mary (Erin Daniels and Jennifer Jostyn) who are rescued by a family of sadistic serial killers whilst stuck in the rain; initially unknowing of their saviours evil intents, the group soon become subjected to a series of increasingly horrific torture. Although the premise is the same as numerous other films' 'The House of 1000 corpses' sets itself apart with it's uncontrollable style and blunt force. Despite being told through the eyes of it's heroes, the real stars of the story are its villains 'The Firefly family', with Otis B. Driftwood (Bill Moseley) and Baby (Sheri Moon Zombie) in particular being the main points of attraction. It is apparent throughout the extent of the film that Zombie is in love with his deranged creations, giving them ample opportunities to spout their morally astray ideologies in nightmarish and often heavily sexualised montages made up of gothic imagery and visions of death ("Whatever you need to do, you do it. There is no wrong. If someone needs to be killed, you kill 'em. That's the way"). Such use of narrative fragmentation would appear un-immersive if not for the film's sporadic, maniacal and unpredictable editing, which often uses effects such as split screen and archive style footage to unrelentingly draw audience's into its dark world. Where the film falters however is with its ambition, causing the unpredictable to become predictable, an example of this is the way in which Zombie frequently fills viewers with hope for their protagonists only to take it away, and, although effective the first two or so times, this gimmick quickly becomes overused and is outwardly tiresome by the end of the film. As well as this HO1C fails where many other modern horrors do, in its climax, which is overlong and descends into an unbridled sense of absurdity and un-believability. Verdict: A master class in technical and tonal horror, House of 1000 Corpses is let down by the pitfalls of most modern horror.
Cameron Sherwell
Super Reviewer
For me at least, I find it hard for me to go into any form of detail about this film without first talking about the director. I am something of a mediocre fan of Rob Zombie. I mean, I like his music well enough and as an artist, I have respect for him. With my first two Zombie films I saw were his Halloween films, I got it that he loves paying tribute to the horror films that inspired him like he did with the lyrics to his music. What makes this film different from the Halloween films is how he handles the material he was given. Now, this is by no means a great film. In fact, as a film itself it is mediocre. Yeah, it has a great cult following, but as someone that knows what Zombie was going for, and what this film tried to do, I will not say it is great. But it is BEYOND fun to watch. With Zombie, if you have seen his music videos, the direction is not any way, shape, or form better than what you have already seen. But what makes this film great is how he has the film laid out. Taking ideas from directors, he never tries to improve the horror genre. In fact, he seems to want to create a hour and a half love letter to the obscure, low, disgusting horror films that you only hear about via horror geeks. The purpose is simple: wipe out the way horror films have been created as (soft core porn) and return them to the grotesque, evil, and just plain sadistic way horror (mainly slasher films) was meant to be. But what makes me love this film to watch is how funny the dialogue is. From the get go, it is shown that if you are looking for sophisticated characters, those that you can attach yourself to and see different angles to, then you have the wrong film. This movie gives each character one personality and it is either annoying or fun. As to which one is which, well, just look at who lives and dies. With this, the acting is not all that great, and should not have been great. In this type of film, great acting would kind of kill the overall feel that it was trying to achieve. This is Zombieâ(TM)s directorial debut, and as such, he does have one main problem: LOTS of dropped ideas. Part of the plot of this film is to have a character known as Dr. Satan and his exploits. You only see him once in the entire film and his appearance is something of a buzz kill. Then you have the murderous family parts, the cops parts, and all of this that is later replaced with attention being focused on the gore shots. Okay Zombie, as a film critic, here is some advice: only keep the subplots that will work and develop them. I know I said that this was just a fun film and one to not take seriously, but with huge plot holes that donâ(TM)t go anywhere, plot devices that really serve no purpose, it kills the film for me. But the best thing, and the part that redeems this film, is just the dialogue. I know I kind of already touched on this topic, but I just canâ(TM)t love the words in this film enough. Mainly with the Firefly family, the dialogue just goes and destroys every stereotype imaginable for a backwashed family in the middle of no where. Now, why I love this is due to how natural it flows from the actors. Mainly with Bill Moseley (known for The Texas Chainsaw Massacre 2, Repo! The Genetic Opera, and The Devilâ(TM)s Carnival) and how he allows his character to take over. It is truly hysterical. In the end, this is how a typical debut for a director should be: try everything you want, just be prepared to have the film hated. However, given the giant cult fan base this film has, that is not really the case. But for me, I am kind of in the middle with this film. The cinema snob in me wants to bash this film, calling it trash. The film geek in me wants to love this film for how funny it is, how much it pays tribute to films I love, and just the chance to see the great Rob Zombie make a movie. With this film, I am going with my film geek side. Now, am I saying go out and watch this film? Only if you can handle a LOT of gore and weird images. If you can handle it, make sure you have some fried chicken ready and sit back for one interesting and loving film.
Zach Brehany
Super Reviewer
House of 1000 Corpses Quotes
| | |
| --- | --- |
| Baby: | I outta rip you tits off and shove them down your throat. |
| | |
| --- | --- |
| Captain Spaulding: | I'll tell you what ski king, how about you take home yo momma some chicken and then I won't have to stuff my boot all up in yo ass! |
| | |
| --- | --- |
| Otis: | [Looking at Jerry while wearing a mask made of human skin] What was this guy looking for? Oh! I remember... You were trying to find Dr. Satan. Well how about we go and find him... |
| Otis: | [looking at Jerry while wearing a mask made of human skin] What was this guy looking for? Oh! I remember... You were trying to find Dr. Satan. Well how about we go and find him... |
| Jerry: | [Moaning and Grunting] ... Fuck you! |
| Jerry: | [moaning and grunting] Fuck you! |
| Otis: | [Takes off mask] It's all true... The boogeyman is real, and you found him. |
| Otis: | [takes off mask] It's all true. The boogeyman is real, and you found him. |