House Of Bodies
(2013)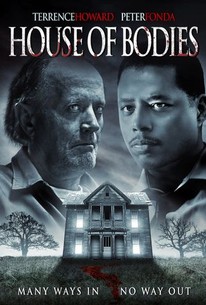 AUDIENCE SCORE
Critic Consensus: No consensus yet.
Movie Info
Detective Starks investigates mysterious murders very similar to those committed by the incarcerated serial killer Henry Lee Bishop. As Starks tries to crack through Bishop's creepy demeanor to get answers, a young deaf boy finds himself witness to a college girl fighting to stay alive on a voyeur house website -- webcast from the very house where Bishop committed the murders years before.
Audience Reviews for House Of Bodies
½
First of all how does a movie like this manage to get a cast like this? It boggles the mind that these actors would actually be willing to take part in such a shit show, but they did, and it was an epic disaster. Inside a house once owned by a serial killer, college girls looking for money, live, on camera 24/7, in a place where anything can happen. Ya see, they are actually part of a fetish porn website, where they can become victims at anytime and people pay big money to see this. Unbeknownst to them, the serial killer isn't dead, and one night he returns to the house, where the killings become all too real and are streamed live on the web for the whole world to see. Plain and simple this is a mildly pornographic slasher film and a bad one at that. Some big names have some small roles that are honestly beneath them, and not at all worthy of their time. Not only is the story badly written, but the film is just frustrating to watch, as it keeps switching back between the actual house and the poor quality web feed people around the world are watching. The bottom line here, there is a great cast, a title and even a preview that will attract every horror fan that sees it, but if you get sucked in, you will be highly disappointed.
Todd Smith
Super Reviewer
This slash thriller directed by Alex Merkin nd written by Eddie Harris has an impressive cast with Terrence Howard, Queen Latifah and Peter Fonda, but even they could not save it! In 1 hour and 18 minutes you will satisfy an appetite for the grim and gruesome (if you have one) but in very sub-standard environment and execution. Annoying music, boring story which is happening in a house where a serial killer once lived, terrible acting by most of the younger actors, lazy by the book directing... I am not sure where to start and when to stop naming all the sluggish elements of this movie! Stay away from it. Nothing there could enrich your life in any way!
House Of Bodies Quotes
There are no approved quotes yet for this movie.